Aging Room Quattro F55 Stretto 5 Pack

4 1/2 x 46 - Natural - Pack of 5
specifications
- View Description
Strength:Full
Shape:Cuban Corona
Country:Dominican Republic
recommended for you based on Aging Room Quattro F55 Stretto 5 Pack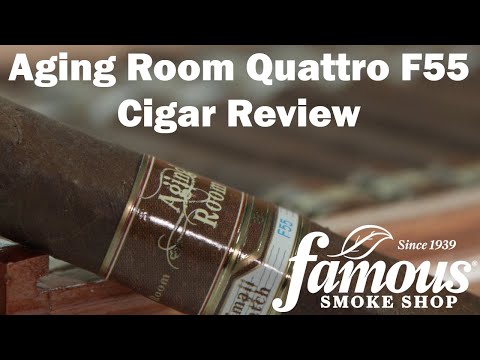 Aging Room Quattro F55 Stretto 5 Pack
Aging Room Quattro F-55 cigars are made with the most select Dominican Havano longfillers and binders, BOX-PRESSED in gorgeous, buttery-smooth Sumatra wrappers which were acquired from a machine-made factory in Germany that had to jettison some inventory. The samples were exquisite, so we jumped on them, said Boutique Blends VP, Hank Bischoff. This is a GENUINE Sumatra wrapper aged since 2003. The smoke is especially robust and earthy with an excellent burn and draw. Order some now.
full specifications
Strength:Full
Shape:Cuban Corona
Size:4 1/2 x 46
Country:Dominican Republic
Wrapper Color:Natural
Wrapper Origin:Indonesian
Wrapper Leaf:Sumatra
3 reviews
67% of reviewers recommend this product
Excellent Cigar
for Aging Room Quattro F55 Stretto
by Kurt in Combined Locks on September 9, 2014
I was very pleased with the construction and overall appearance of this cigar. It had a perfect draw, great tobacco, hay, and baking spice flavors. It is a no-brainer for the price. I recommend smoking this in the fall due to the flavor profile; I think it just fits with that time of the year.
Kind of a let down
for Aging Room Quattro F55 Stretto
by Chuck in Gonzales LA on November 8, 2013
I bought a full box at a good deal thinking man what a score! The first one I fired up had very inconsistent burn and kept having to relight it every 4 - 5 draws. And flavor seemed a little bland, nothing to really write home about. I figured maybe I just got an off stick. But nope, every one I fired up so far has crappy burn, wont stay lit and the flavor in the 9 year old wrapper is just not there. Ill probably never buy Aging Room again.