Romeo y Julieta 1875 Exhibicion #1

8 1/2 x 52 - Natural - Single
specifications
- View Description
Strength:Medium
Shape:Presidente
Country:Dominican Republic
recommended for you based on Romeo y Julieta 1875 Exhibicion #1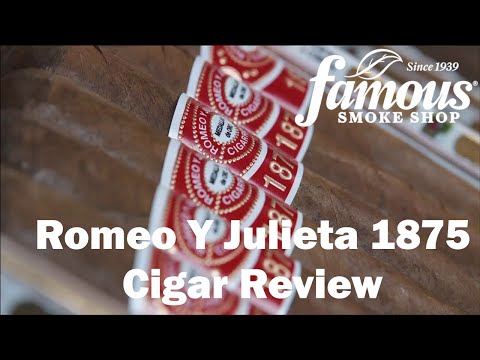 Romeo y Julieta 1875 Exhibicion #1
Romeo Y Julieta 1875 cigars are blended with choice Dominican long-fillers, rich-tasting Olor binders and exotic Java wrappers. With hints of cedar, oak, nuts and spice, the flavors are all well-balanced and maintain their smoothness from start to finish. Order your box now.
full specifications
Strength:Medium
Shape:Presidente
Size:8 1/2 x 52
Country:Dominican Republic
Wrapper Color:Natural
Wrapper Origin:Indonesian
Wrapper Leaf:Sumatra
3 reviews
100% of reviewers recommend this product
Amazing for the price
for Romeo y Julieta 1875 Exhibicion #1
by Evan in California on May 28, 2010
Litterally just finished one of these about an hour ago, I sat and tanned for a good 90 minutes with this stick. I let mine settle in my humidor for a couple of weeks and I am glad I did. Dont let them get above 65 or so if you can because then tend to feel almost soggy or squishy. 60 is a nice level for them though. Anyways, Lit with one match, the draw after the first half inch tasted almost sugary and leaves a nice wood and nutmeg flavor after. The last inch or two becomes rather harsh and bland, but it was the everything in between that was amazing. Ashes when ever it wants too which kind of made a mess, but it's just ash and can be blown away no problem.
great stick, great price
for Romeo y Julieta 1875 Exhibicion #1
by RGR in WY on April 28, 2007
I bought one at a local smoke shop and unfortunatly smoked it right out of the cellophane, even still this was a great smoke. Perfect burn, even after relight, good construction and complex, medium bodied flavor throughout. I will definitely buy a box of these. Only negitive, weak ash! dropped ash all over the place
A Bargain At Twice The Price!
for Romeo y Julieta 1875 Exhibicion #1
by greg258 in NJ on August 30, 2006
At about $4 a stick for an A sized cigar, I decided to give these a try totally blind based on the consistently excellent reviews in periodicals. (90 in a recent CA) I recieved my box, removed them from the cellophane, and let them stabilize in the humi for a few weeks before trying. My initial impression was that the color and sheen on the wrappers was impressive and the construction appeared impecccable. They also smelled great. I eventually sat down, clipped one, and lit it. All I can say is FABULOUS! I'm talking about a nice, easy draw that filled my mouth with a rich smoke that was dense enough to make me want to actually bite it as it lazily drifted upward. The burn was straight as an arrow and I could buy my next house with what I'd save in matches if every cigar burned like these did. The ash was a lovely white with grey flecks. The flavor profile was complex and interesting while the spice factor ramped up nicely right through to the nub to end with a sweet little sting right at the end. I got nice sensations of light wood, leather, creme, and vanilla with a hint of earth. When I say "light" and "hint" I don't mean weak or anemic. Make no mistake, this cigar is well within the medium bodied range and VERY rich. Rather, I use the tem "light" to mean that the flavors are so nicely balanced that they each take turnes coming forward without overwhelming each other or my taste buds. The finish was that rare kind of long and fresh at the same time. Don't get me wrong, there are times when you almost want your smoke to be an "event". You want to fuss with it a little and think about each detail of the cigar. You want to consider what you're drinking and how the smoke works with your coctail and your last meal. You want to play with rotating the stick to control the burn and adjust your draw to control the heat. Or maybe wou want to wrestle with your smoke just to see how far you can go and how much you can stand. We've all been there and there is nothing wrong with that. It's all good and all part of enjoying the fabulous variety of cigars we are lucky enough to have available and enjoy. But this is not the cigar for those times. This one just about smokes itself, interupting your thoughts just long enough to tell yourself, "Man, this is good!" This one is for when you want to sit down, relax, clear your mind and effortlessly (and deliciously) make the world go away for about 2 hours. All this for $4 bucks or so a stick is just a rip, roaring bargain. Very impressive indeed. A humi full of these, a selection of Padrons, and a few Cuban Sir Winstons and I'll be just fine.