Romeo y Julieta Reserva Real Robusto

5 x 54 - Maduro - Box of 25
specifications
- View Description
Strength:Medium
Shape:Robusto
Country:Dominican Republic
recommended for you based on Romeo y Julieta Reserva Real Robusto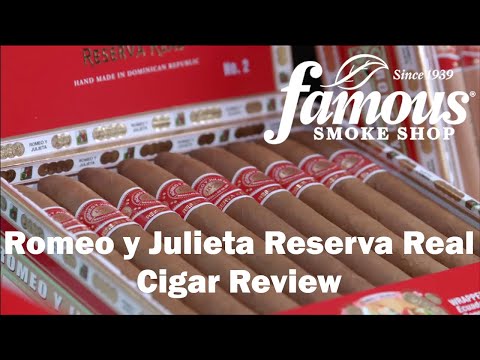 Romeo y Julieta Reserva Real Robusto
The love affair continues with Romeo y Julieta Reserva Real Maduro cigars. This rich, full-flavored cigar features a deep, dark San Andres Morron wrapper, Nicaraguan binders and hearty blend of Honduran and Nicaraguan longfiller tobaccos. The cigars offer an impressive and wonderful smoke with medium to full body and strength. Sure to satisfy cigar connoisseurs time and time again - pick up a box, or try a 5-pack first!
full specifications
Strength:Medium
Shape:Robusto
Size:5 x 54
Country:Dominican Republic
Wrapper Color:Maduro
Wrapper Origin:Mexican
Wrapper Leaf:San Andres Morron
2 reviews
100% of reviewers recommend this product
Nice
for Romeo y Julieta Reserva Real Robusto
by Doug in Arkansas on November 2, 2012
Do you ever smoke a cigar and just go, "mmm, nice."? Well, this is definately one of those cigars.
Tightly wrapped decent smoke
for Romeo y Julieta Reserva Real Robusto
by Jorian in Orlando, FL on July 25, 2012
This was purchased as a recommendation by an employee at a brick and mortar as a good smoke. It was decent at the light and in the first third with a heavy smoke and decent light sweetness but after that it was a disappointment. It was wrapped so tight the draw was a struggle. I would say it was more full than medium. Overall ive had better. Also burned uneven