Romeo y Julieta Vintage Corona

5 1/2 x 44 - Natural - Single
specifications
- View Description
Strength:Medium
Shape:Corona
Country:Dominican Republic
recommended for you based on Romeo y Julieta Vintage Corona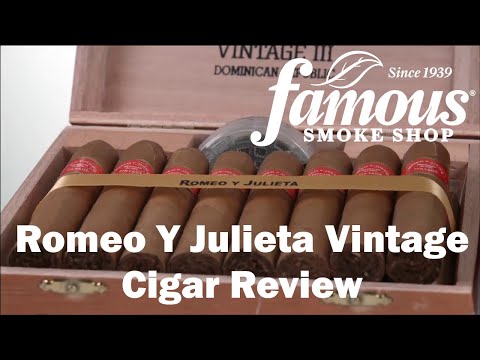 Romeo y Julieta Vintage Corona
Each Romeo y Julieta Vintage Corona is flawlessly handmade with a blend of the finest three-year-aged, vintage Dominican Olor tobaccos and silky, high-grade Ecuadorian Connecticut wrappers to achieve a marvelously mellow flavor and aroma. The boxed cigars are presented in lacquered wooden humidor-styled boxes with a refillable humidifier. (Single cigars and 5-packs are packaged individually.) One of the world's most luxurious premium cigars that every smoker of fine cigars should make part of their personal collection.
full specifications
Strength:Medium
Shape:Corona
Size:5 1/2 x 44
Country:Dominican Republic
Wrapper Color:Natural
Wrapper Origin:Ecuadorian
Wrapper Leaf:Connecticut
2 reviews
100% of reviewers recommend this product
Exceptional Cigar
for Romeo y Julieta Vintage Corona
by Caleb in Maryland on December 15, 2014
Exceptional cigar by every metric. Mild flavored that a novice smoker will be sure to enjoy and a seasoned smoker will appreciate. Fantastic presentation with cork seal adds a luxury look, coupled with the wooden humidor this box set makes a perfect gift. Buy it, you will be glad you did.
Astounding cigar...
for Romeo y Julieta Vintage Corona
by Jason in on July 15, 2012
With an amazing mellow smoke, perfect draw, appearance and burn, this RyJ has everything you want in a quality cigar. Even the box and glass tubes these come in are fantastic quality, nothing less is expected from these guys. The taste and construtcion are unmatched by a majority of other brands out there. The wrapper from Ecuador is an amazing touch to this near perfect cigar.