Romeo y Julieta Vintage #4

7 x 48 - Natural - Single
specifications
- View Description
Strength:Medium
Shape:Double Corona
Country:Dominican Republic
recommended for you based on Romeo y Julieta Vintage #4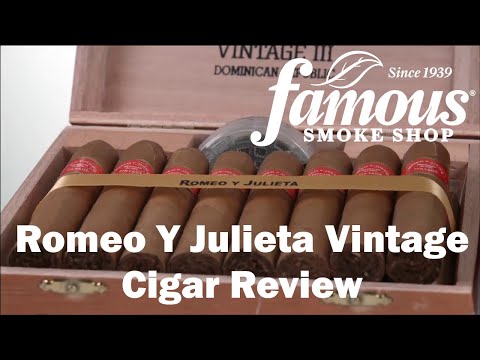 Romeo y Julieta Vintage #4
Each Romeo y Julieta Vintage #4 is flawlessly handmade with a blend of the finest three-year-aged, vintage Dominican Olor tobaccos and silky, high-grade Ecuadorian Connecticut wrappers to achieve a marvelously mellow flavor and aroma. The boxed cigars are presented in lacquered wooden humidor-styled boxes with a refillable humidifier. (Single cigars and 5-packs are packaged individually.) One of the world's most luxurious premium cigars that every smoker of fine cigars should make part of their personal collection.
full specifications
Strength:Medium
Shape:Double Corona
Size:7 x 48
Country:Dominican Republic
Wrapper Color:Natural
Wrapper Origin:Ecuadorian
Wrapper Leaf:Connecticut
1 review
100% of reviewers recommend this product
The RomeoyJulieta Vintage 4 is consistent.
for Romeo y Julieta Vintage #4
by Daniel R. McGauley in Grant, Alabama on November 5, 2000
I'll never forget my first experience with RyJ. I was at a tobacco store in Falls Church, Va. looking for a different kind of cigar. One of the proprieters was smoking the most outstanding smelling cigar. I asked what it was and he told me RyJ Vintage IV. He gave me a very special price to try one. I bought a box. This was many years ago, before the "cigar craze" struck and I was still new to the pleasures of the one true smoke...a good cigar. I've since smoked many "real Cubans' and they still cannot make me sway from my favorite... the Vintage IV. That unique aroma, mild yet full taste and always perfect construction won't let you down.