A-Crop Cuban Wheel Robusto 5Pk
5 x 52 - Natural - Pack of 5
Strength: Full
Shape: Robusto
Size: 5 x 52
Country: Dominican Republic
Color: Natural
Flavor:
Wrapper Origin: Ecuadorian
Wrapper Leaf: Habano
A-Crop Cuban Wheel Robusto 5Pk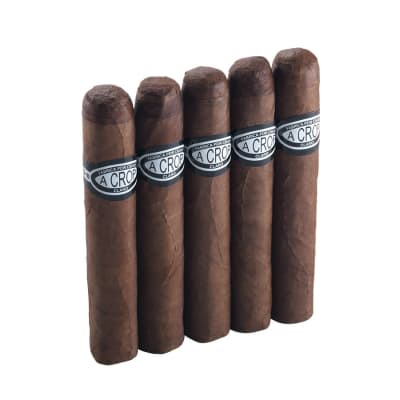 5 x 52 - Natural - Pack of 5
Strength: Full
Shape: Robusto
Size: 5 x 52
Country: Dominican Republic
Color: Natural
Flavor:
Wrapper Origin: Ecuadorian
Wrapper Leaf: Habano
Recommended for you based on A-Crop Cuban Wheel Robusto 5Pk
100% of reviewers recommend this product
Good Humidor Filler, Good For The Money
for A-Crop Cuban Wheel Robusto 5Pk
by ggallin13 in Reno. NV on April 05, 2018
These aren t great, but get the job done. I use these to take up empty space in my humidors and give them to drunk friends who only smoke once every year and a half. And that s a good thing! I don t want to give one of my Punches or Romeos to someone who won t appreciate it, but who wants the social experience. And I don t want to hand those guys and gals garbage,These are also great for those times where you want to unwind with a drink and a smoke and not think about it. I just finished one with a glass of white, and now work is in the rear-view.These lack any sort of depth. Middle third is decent, I don t go past that as these get bitter. With whiskey I m a Jameson guy for everyday , these have some nut and earth on the finish, but nothing to write home about. Smoke as slow as you can, as excessive heat kills these These are well constructed, and burn evenly. Good draw. I usually use a punch, but I find a cutter is best with these.These aren t in the upper level of smokes, but they are a great value for the money, and I reorder when I get down to five.If you don t smoke often, I d say pass on these. But if you want a good just a cigar that isn t bad, these are the thing.These are perfect for when you are a few cocktails in and won t taste the work/art in a more expensive cigar, have casual company, and enjoy yourself.The numbers I m leaving are as compared to my favorites, but I think these are a good value for what you pay, and keep casuals away from your more expensive smokes.Get some.
... read more