Al Capone Sweet Cigar
5 1/2 x 26 - Natural - Upright of 20
Description
Al Capone cigars are so deliciously sweet and petite they're downright habit forming! Hand rolled and presented in several flavors, including a filtered version, they're perfect for those times when you just HAVE to have a cigar, but don't have time for a full-size smoke. Priced affordably, find the Al Capone cigars that are right for you and toss 'em in your cart. Make sure you have enough, too. (If you run short, don't say we didn't warn 'ya about them being habit forming.)
Strength: Mellow
Shape: Panatela
Size: 5 1/2 x 26
Country: Honduras
Color: Natural
Flavor: Cognac
Wrapper Origin: Nicaraguan
Wrapper Leaf: Undisclosed
Al Capone Sweet Cigar
5 1/2 x 26 - Natural - Single
Description
Al Capone cigars are so deliciously sweet and petite they're downright habit forming! Hand rolled and presented in several flavors, including a filtered version, they're perfect for those times when you just HAVE to have a cigar, but don't have time for a full-size smoke. Priced affordably, find the Al Capone cigars that are right for you and toss 'em in your cart. Make sure you have enough, too. (If you run short, don't say we didn't warn 'ya about them being habit forming.)
Strength: Mellow
Shape: Panatela
Size: 5 1/2 x 26
Country: Honduras
Color: Natural
Flavor: Cognac
Wrapper Origin: Nicaraguan
Wrapper Leaf: Undisclosed
Al Capone Sweet Cigar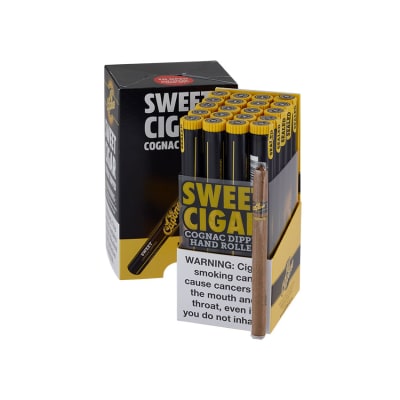 5 1/2 x 26 - Natural - Upright of 20
Description
Al Capone cigars are so deliciously sweet and petite they're downright habit forming! Hand rolled and presented in several flavors, including a filtered version, they're perfect for those times when you just HAVE to have a cigar, but don't have time for a full-size smoke. Priced affordably, find the Al Capone cigars that are right for you and toss 'em in your cart. Make sure you have enough, too. (If you run short, don't say we didn't warn 'ya about them being habit forming.)
Strength: Mellow
Shape: Panatela
Size: 5 1/2 x 26
Country: Honduras
Color: Natural
Flavor: Cognac
Wrapper Origin: Nicaraguan
Wrapper Leaf: Undisclosed
Recommended for you based on Al Capone Sweet Cigar
Excellent smoothness
for Al Capone Sweet Cigar
by James Beebe in Fairview Utah on October 03, 2018
GREAT SINGLE STICK!
for Al Capone Sweet Cigar
by DAVIS in NC on January 20, 2016
GREAT BURN AND NICE DRAW! THIS IS ONE OF THE BEST BANGS FOR YOUR BUCK OUT THERE! THE SWEET FLAVOR IS PERFECT AND NOT OVERPOWERING! THIS IS FOR THE GUY OR GAL THAT WANTS A BIG CIGAR EXPERIENCE WITHOUT HAVING TO HAVE 45 + MINS TO SMOKE ONE. PERFECT FOR GOLFING!
... read more
Questionaire
for Al Capone Sweet Cigar
by Ron LaFountain in Castro Valley, Ca. on August 16, 2017
First, I want to thank you for the employee, MARTY, as he has shown me the professionalism and courtesy as a valuable additionto your establishment for the past year and a half of my purchases.
... read more
Al Capone Sweets
for Al Capone Sweet Cigar
by James Holliday in California on October 08, 2018
Ordered instead of my usual standard order of Tatitiana Rum Minitiure Tins since you had none in stock. Was very disappointed in the Al Capone Sweets!
... read more