Best Of 6 Sampler
Varies - Varies - Sampler of 6
Strength: Medium
Shape: Robusto
Size: Varies
Country: Varies
Color: Varies
Flavor:
Wrapper Origin: Varies
Wrapper Leaf: Varies
2 CAO Cx2 Rob
2 Final Blend Toro
2 Fonseca Serie F Robusto
Best Of 6 Sampler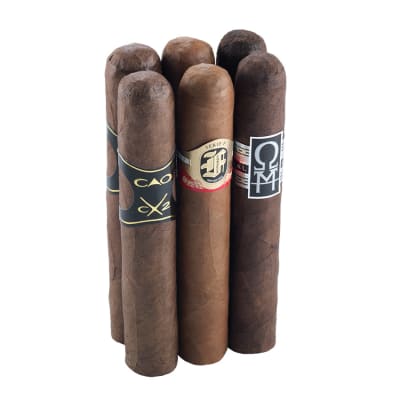 Varies - Varies - Sampler of 6
Strength: Medium
Shape: Robusto
Size: Varies
Country: Varies
Color: Varies
Flavor:
Wrapper Origin: Varies
Wrapper Leaf: Varies
Recommended for you based on Best Of 6 Sampler
83% of reviewers recommend this product
Fabulous!
for CAO Cx2 Rob
by DrJohn in Atlanta on February 13, 2022
Just got my first box from Famous Smoke, I m a big fan of Cameroon and this doesn t disappoint! Tried it on a lark since I m a AF Don Carlos fan, and now there is some serious competition. Great construction, draw, burned evenly. Beautiful smoke production. Flavor is always subjective and this was complex and hard to let go. If you are a fan of Cameroon this is a must try.
... read more
Simple Pleasures
for CAO Cx2 Rob
by kc smokin in Kansas City on May 14, 2016
Coupled a CX2 with a double blue sapphire martini and some Miles Davis. Wow! Nice oily, deep veined wrapper. Perfect draw and nice even burn all the way down. Generous amount of smoke. Mixed another martini for final third and now sitting here writing this review with peppery,creamy flavors mixing with the gin and olivies. This won t be my last CX2!
... read more
EXCELLENT SMOKE!
for CAO Cx2 Rob
by Anthony F in Massapequa Park, NY on June 06, 2015
I haven t tried too many CAO cigars, but this one is a real winner! It came in a sampler I ordered from FSS, & I LOVED it. The idea of a double Cameroon construction in the binder and wrapper, hence the CX2, is a little unusual, but it works. Great flavor profile, nice burn, wonderful aromas. Get them!!
... read more
A nice smoke
for
CAO Cx2 Robusto 5 Pack
by Jim in Ohio on April 16, 2015
Verified purchase
I really don t know why they re not rated higher, I think they re a very nice smoke.
... read more
One of my top 5 favorites.
for
CAO Cx2 Rob
by Jim Thompson in South Carolina on February 14, 2013
Verified purchase
I have enjoyed this cigar very much after dinner and with a light beverage. One of my 5 favorite mild to mild/med evening smokes. I enjoy the Cameroon flavor of the wrapper and construction is very good. My other favorites are Rocky Patel Am.Market Selection, Partagas, Alec Bradley Am. Classsic Blend, Gurkha Regent.
... read more
Great cigar
for
CAO Cx2 Robusto 5 Pack
by SirMr in Detroit on June 03, 2012
Verified purchase
Excellent draw every time. Creamy, hint of nuts, great black tobacco taste.
... read more
Awesome!
for CAO Cx2 Rob
by Jimmy in Milwaukee, WI on October 12, 2011
Not sure what these other guys are talking about, but I got one of these in a sampler, and it was fantastic. I did let mine rest almost a month before smoking it, so maybe that was the difference maker. Great smoke.
... read more
Very Nice!
for CAO Cx2 Rob
by Eddie in IL on April 12, 2011
I am fairly new to cigars. However, just had a CAO Cx2. VERY enjoyable. Nice construction, very even burn, and great tastes. Would definitely recommend!
... read more
SUPER STICK
for
CAO Cx2 Robusto 5 Pack
by mike in cleveland on April 02, 2011
Verified purchase
outstanding smoke, great construction and burn. One of my favorites
... read more
Love Um!
for
CAO Cx2 Rob
by Ian Fjeld in Scobey, MT on December 14, 2010
Verified purchase
I'm new to smoking cigars so take my review for what its worth. I got these cigars in a sampler pack and had already heard of them from others that smoke. I was kind of disappointed in the sampler that I got till I found these babies, now I'm in love. I've already bought several five packs and probably will be buying a box here soon enough. They had a nice smooth draw with tons of creamy smoke and really mellowed out after the first 10 minutes of smoking them. I would highly recommend these.
... read more