Bullet Punch Cutter Gold
With Keyring & Plug Ejector
Description
'Revolutionary' design and low price point make this gold bullet-style cigar punch cutter a real buy. Super sharp blade punches a neat hole in the head of your cigar and ejects the plug with a snap. Key ring fob keeps it close-by, too. (Not recommended for airline travel.)
Bullet Punch Cutter Silver
With Keyring & Plug Ejector
Description
Revolutionary design and low price point make this silver bullet-style cigar punch cutter a real buy. Super-sharp blade punches a neat hole in the head of your cigar and ejects the plug with a snap. Key ring fob keeps it close-by, too. (Not recommended for airline travel.)
Bullet Punch Cutter - Rosewood
Built-In Plug Ejector
$6.95

$16.00
On Sale - 57% OFF

(ends 06/16)
Description
A low-cost, bullet-style punch cutter featuring a laminated rosewood housing and brass accents. The replaceable razor-sharp blade cuts a perfect circle in the head of your cigars. Just push in the convenient, spring-loaded key ring to eject the tobacco plug and screw the cap back on to secure it.
Bullet Punch Cutter Silver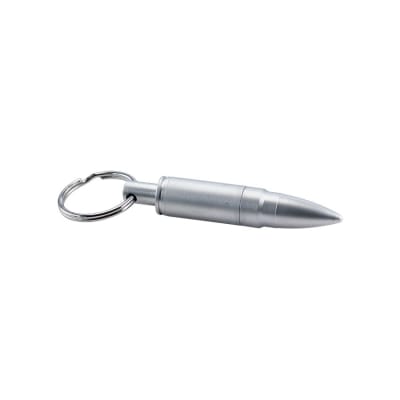 With Keyring & Plug Ejector
Description
Revolutionary design and low price point make this silver bullet-style cigar punch cutter a real buy. Super-sharp blade punches a neat hole in the head of your cigar and ejects the plug with a snap. Key ring fob keeps it close-by, too. (Not recommended for airline travel.)
Recommended for you based on Bullet Punch Cutter Silver
GREAT Cigar Cutter
for Bullet Punch Cutter Gold
by David in Georgia on May 13, 2014
This is a great tool for cleanly taking a plug from the head of your cigar leaving a very durable end that resists getting soggy and falling apart.Excellent for those who enjoy there smoke over along afternoon of activity or when sitting and watching the world go by.
... read more
Silver bullet punch cutter
for
Bullet Punch Cutter Silver
by DFC in Beaufort, SC on March 14, 2009
Verified purchase
Received with a little corrosion on the blade, this punch nevertheless works very well. Nice clean hole permitting a good draw. Would recommend this punch to anyone interested in trying a punch cutter. Price is very good.
... read more
Big, solid punch
for Bullet Punch Cutter - Rosewood
by David Mangan in Mississippi on August 20, 2018
This is a big, solid cigar punch. However, I had to sharpen up the actual punch, as it wasn t going through the cap of the cigar. Once I sharpened it up, it worked like a charm. For the price it was well worth spending 30 seconds with a diamond file.
... read more
Great looking
for Bullet Punch Cutter - Rosewood
by Timothy Campbell in NC on March 29, 2018