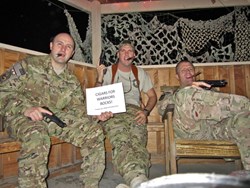 Easton, PA (PRWEB) December 9, 2013
Famous Smoke Shop, a leading online distributor of discounted premium cigars, has partnered with the charitable organization Operation: Cigars for Warriors to donate a large number of premium cigars to men and women currently serving in the military. The company's retail store will be hosting and contributing to a cigar donation drive on December 13 and 14.
Famous Smoke Shop, the nation's #1 discount retailer of premium handmade cigars, has aligned with Operation: Cigars for Warriors to support their mission of collecting and distributing premium cigars to our brave men & women serving in combat zones around the globe. Famous Smoke Shop is Operation: Cigars for Warriors' largest corporate sponsor, with a commitment to provide nearly $50,000 in contributions that go directly to our US military personnel.
To enhance their efforts this holiday season, Famous Smoke Shop and Leaf Cigar Bar will be matching one cigar for every cigar purchased and/or donated from Friday December 13th to Saturday December 14th at their retail location in Forks Township. It is Famous Smoke Shop's way to honor, show respect and thank those putting it all on the line for us back home. The company receives requests from many soldiers who have no one here in the U.S. to send care packages to them, and would otherwise receive nothing.
"It's a little taste of home for our Military Heroes – a good cigar at the end of a day, together with a chance to unwind while working hard so far away from family and friends," says CFW founder and president, Storm Boen. "This is Operation: Cigars for Warriors, and it's an amazing network of volunteers working to help make that relaxing moment happen for our troops. Soaring requests for premium smokes prove that the giving of such a small item, a single cigar, makes a huge impact on their well-being. And that's the primary mission of Op: CFW, to send premium cigars and cigar-related items to our troops in war zones."
CFW representatives, Rick and Robert Nease, will be on location to help promote the donation drive and to provide information to customers who are interested in learning more about the organization. Famous Smoke Shop will be running a variety of promotions including discounts on military collector cigar tins and other American themed tobacco products, prizes and giveaways, as well as an additional 10% discount for all military personnel past and present.
Famous Smoke Shop released the following statement to their customers in regards to this event: "Please join us in supporting our endeavor to send love, honor, and respect—one cigar at a time to those whose sacrifices never end. We are in need of cigars, cutters, lighters, water pillows, travel humidors etc… We are working continuously to fill the requests & we would like to thank everyone for the support & donations."
For more information, please contact Director of Marketing, Alexandra Renzetti at (610) 559-7000 ext. 160 or arenzetti(at)famous-smoke(dot)com.
About Famous Smoke Shop
Famous Smoke Shop is the nation's #1 discount retailer of premium cigars online, offering one of the largest selections of handmade cigars, machine-made cigars, cigar humidors and accessories. Famous offers the web's lowest prices on a wide selection of cigar brands including Acid, Davidoff, Macanudo, Romeo y Julieta, Ashton, Padron, Oliva and Perdomo cigars, and many more. Famous offers their customers the best prices on all premium cigars as well as friendly and knowledgeable customer service.
Originally Posted at : http://www.prweb.com/releases/famous-smoke-shop/cigars-for-warriors/prweb11404467.htm