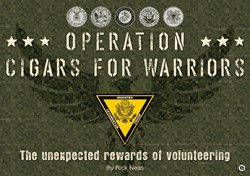 Easton, PA (PRWEB) December 25, 2013
Cigar Advisor Magazine is a digital publication dedicated to providing cigar enthusiasts with entertaining and informative content. Their December 2013 issue was just updated with their 3rd Operation Cigars for Warriors column, this one about the volunteers who make the organization happen.
The all-new Cigar Advisor Magazine is an online cigar magazine that brings a fresh, irreverent, and down-to-earth perspective on all things cigars to thousands of smokers. In addition to educational cigar content and behind-the-scenes cigar industry articles from some of the business's top names, Cigar Advisor delivers an array of content about a variety of topics of interest to people who enjoy the cigar lifestyle. The magazine also features cigar reviews and ratings submitted by real smokers, and much more. Cigar Advisor has just published a new article by Rick Neas entitled "The Unexpected Rewards of Volunteering," an inside look at the work and appreciation Cigars for Warriors brings to not only the troops who receive the cigars, but those who volunteer.
Rick writes "Anyone that smokes cigars knows that one of the most endearing aspects of cigar smoking is the comradery; and I have met some of my best friends through cigar smoking. The man with the beard was Storm Boen, who I already knew from a Facebook cigar group called C.A.T.S. I never got the soldier's name. But after hearing his story, I – along with my cousin Robert Neas – knew we needed to get involved. And since that first day, when I met other Cigars for Warriors Volunteers from Operation: Cigars for Warriors, I was hooked."
"One of the best rewards for me is being able to represent Cigars for Warriors Volunteers…and Robert and I enjoyed our first big event as Primary Event Coordinators with a thousand brothers and sisters of the leaf in Easton, PA. The staffs that work these bashes are always amazingly helpful, as they all bend over backwards to help support the cause."
"These cigars really do bring some much needed stress relief and joy to our deployed troops. Even better, if you're seeking some of those unexpected rewards and the friendship and comradery of a great organization, while helping our men and women in uniform – consider becoming an event coordinator. In either case, I hope to see you at one of our upcoming events!"
About Cigar Advisor Magazine
Cigar Advisor magazine is a digital publication created for real cigar enthusiasts who love tobacco and live the lifestyle. Cigar smokers are passionate about almost everything they do – whether it's the drinks they savor, the food they devour, the cars and motorcycles they dream of, the sports they're fanatical about or the women they love, Cigar Advisor shares those passions with a razor-sharp edge, soaking up each day and experience as if it were our last. Find that passion and more on display at CigarAdvisor.com.
Originally Posted at : http://www.prweb.com/releases/cigars-for-warriors/cigar-advisor/prweb11447768.htm