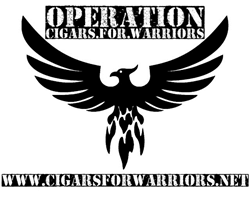 Easton, PA (PRWEB) March 14, 2014
Famous Smoke Shop is the nation's leading online distributor of discount premium cigars. The company has just announced they are shipping out their monthly Operation: Cigars for Warriors donation with this month's shipment including just over 3,000 cigars.
Famous Smoke Shop is an online distributor of discount premium cigars specializing in offering the web's widest selection of cigars, the best prices, and expert customer service. In conjunction with Operation: Cigars for Warriors, Famous Smoke Shop ships out their monthly donation of cigars heading for our men and women in uniform overseas who help protect our freedoms. This month, Famous Smoke Shop was able to send over 3,000 cigars to these brave soldiers.
Operation: Cigars for Warriors is a great cause that helps troops relax when not in the comforts of their own home, or country for that matter. According to their website "Our top priority is collecting then dispersing premium cigars to US Military Personnel serving in a designated Combat Zones. Our second priority is filling requests from US Military Personnel on long term remote deployments OCONUS. As supplies permit requests from US Forces stationed OCONUS will be considered."
They continue "This mission that we have taken up is one of great importance as we know that some of these fine men and women would not be able to enjoy well-deserved moments of reassurance and relaxation without the generosity of sponsors and individual donors. Op: Cigars for Warriors is the link between donation and recipient. We hope that you may be able to assist us in continuing this mission now and in the future. We are in great need of corporate sponsors that can send us donations on a regular basis along with individuals that want to send what they can, when they can. Just as every warrior matters, so does every cigar."
People can donate cigars or money to Operation: Cigars for warriors by logging on to their website or contacting a cigar shop that works in conjunction with the cause.
People interested in learning more about Famous Smoke Shop or Operation: Cigars for Warriors should visit Famous-Smoke.com, Cigarsforwarriors.org, or call 800-564-2486.
About Famous Smoke Shop
Famous Smoke Shop is the nation's #1 discount retailer of premium cigars online, offering one of the largest selections of handmade cigars, machine-made cigars, cigar humidors and accessories. Famous offers the web's lowest prices on a wide selection of cigar brands including Acid, Davidoff, Macanudo, Romeo y Julieta, Ashton, Padron, Oliva and Perdomo cigars, and many more. Famous offers their customers the best prices on all premium cigars as well as friendly and knowledgeable customer service.
Originally posted at : http://www.prweb.com/releases/operation-cigars-for/warriors-famous-smoke/prweb11673165.htm