Tagged:
thank you letters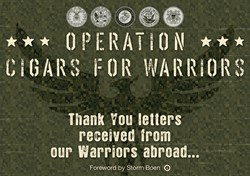 Easton, PA (PRWEB) January 10, 2014
Cigar Advisor Magazine is a digital publication dedicated to providing cigar enthusiasts with entertaining and informative content. Their January 2014 issue features another installment in the monthly Operation: Cigars for Warriors column, this one dedicated to showing off real "thank you" letters written by troops serving overseas who received cigar donations from the foundation.
The all-new Cigar Advisor is an online cigar magazine that brings a fresh, irreverent, and down-to-earth perspective on all things cigars to thousands of smokers. In addition to educational cigar content and behind-the-scenes cigar industry articles from some of the business's top names, Cigar Advisor delivers an array of content about a variety of topics of interest to people who enjoy the cigar lifestyle. The magazine also features cigar reviews and ratings submitted by real smokers, and much more. Cigar Advisor just published an article by Storm Boen entitled "Operation: Cigars for Warriors." Each month, Storm submits a new installment of his time with Operation: Cigars for Warriors. This month Cigar Advisor published "Thank You Letters from Troops" these letters sent back to the organization from the troops thanking them for their time and effort while they fight for our nation abroad.
Storm writes "If you haven't heard of Op:CFW yet, these are the people who help to provide our men & women in uniform something special to enjoy during the few moments they have to relax: a good cigar. That smoke allows each of them a well-deserved moment of rest, so far away from home – and it's why many of you who, like us, have donated cigars to help bring a little bit of relief to what is very demanding duty."
One letter submitted by Storm Boen is from the men and women of the 710th Brigade Support Battalion, 3rd Brigade Support Battalion, and 10th Mountain Infantry Division which reads "Thanks a bunch for the shipment of cigars!!!! We have been fighting the good fight, and were just about flat-lining with spirits when the box arrived. I previously mentioned to the team of cigar indulgers that a box was on its way, and instantly when it arrived spirits skyrocketed. We rallied up most of the personnel that were available and not on mission to enjoy together. Those that could not make the actually "cigar-fest" dropped by the office to grab one for enjoyment.
I mentioned to the mass group that your "Cigar for Warriors" team supplied the cigars to us, and also stated that the supply was a donation from multiple cigar vendors. WE have a package of photos to send, but this email will only have the few that could fit space wise. If you would like more, I can certainly send additional.
The team truly appreciated the gesture of the cigars and having the time to place our minds on laughing, joking and talking all while enjoy the great cigars."
About Cigar Advisor Magazine
Cigar Advisor magazine is a digital publication created for real cigar enthusiasts who love tobacco and live the lifestyle. Cigar smokers are passionate about almost everything they do – whether it's the drinks they savor, the food they devour, the cars and motorcycles they dream of, the sports they're fanatical about or the women they love, Cigar Advisor shares those passions with a razor-sharp edge, soaking up each day and experience as if it were our last. Find that passion and more on display at CigarAdvisor.com.
Originally Posted at : http://www.prweb.com/releases/cigars-for-warriors/thank-you-letters/prweb11477964.htm