Dirty Larry Cigarillos Cherry
4 x 30 - Natural - Box of 50
Strength: Mellow
Shape: Cigarillo
Size: 4 x 30
Country: Dominican Republic
Color: Natural
Flavor: Cherry
Wrapper Origin: Not Available
Wrapper Leaf: Undisclosed
Dirty Larry Cigarillos Cherry
4 x 30 - Natural - Single
Strength: Mellow
Shape: Cigarillo
Size: 4 x 30
Country: Dominican Republic
Color: Natural
Flavor: Cherry
Wrapper Origin: Not Available
Wrapper Leaf: Undisclosed
Dirty Larry Cigarillos Cherry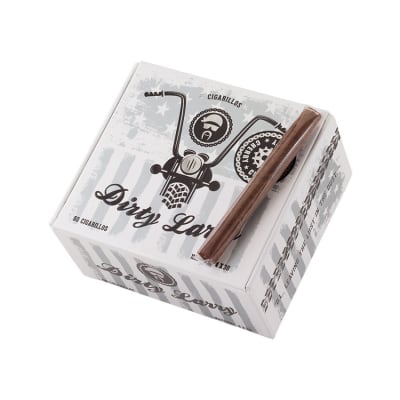 4 x 30 - Natural - Box of 50
Strength: Mellow
Shape: Cigarillo
Size: 4 x 30
Country: Dominican Republic
Color: Natural
Flavor: Cherry
Wrapper Origin: Not Available
Wrapper Leaf: Undisclosed
Recommended for you based on Dirty Larry Cigarillos Cherry
one of my favorites
for Dirty Larry Cigarillos Cherry
by william in 26431 on November 04, 2018
smokes good all of the way through and retains it s flavor.
... read more
Great little cigarillo.
for Dirty Larry Cigarillos Cherry
by Carlos in Puerto Rico on November 01, 2018
I am new to cigars so my experience is very limited this review is based only on my opinion and limited interaction with this product. Great little cigarillo. Nice constant cherry flavor through out. Mild after taste which is a plus for me. A decent draw with an even burn the construction is a bit hastily put together but it does not take away from the experience. I would definitely buy again.
... read more
Hard to open each cigar
for Dirty Larry Cigarillos Cherry
by Al Depalma in 55 Holmes Lane Bedford Ny 10506 on November 05, 2018