Double Diamond 100's Menthol 10/20
3 7/8 x 20 - Natural - Carton of 200
Strength: Mellow
Shape: Filtered Cigar
Size: 3 7/8 x 20
Country: United States
Color: Natural
Flavor: Menthol
Wrapper Origin: Homogenized
Wrapper Leaf: Homogenized
Double Diamond 100's Menthol (20)
3 7/8 x 20 - Natural - Pack of 20
Strength: Mellow
Shape: Filtered Cigar
Size: 3 7/8 x 20
Country: United States
Color: Natural
Flavor: Menthol
Wrapper Origin: Homogenized
Wrapper Leaf: Homogenized
Double Diamond 100's Menthol 10/20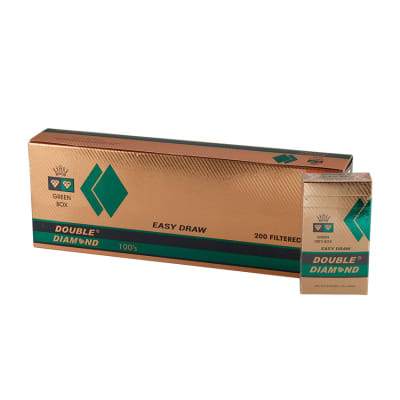 3 7/8 x 20 - Natural - Carton of 200
Strength: Mellow
Shape: Filtered Cigar
Size: 3 7/8 x 20
Country: United States
Color: Natural
Flavor: Menthol
Wrapper Origin: Homogenized
Wrapper Leaf: Homogenized
Recommended for you based on Double Diamond 100's Menthol 10/20
favorites
for Double Diamond 100's Menthol 10/20
by Harry Hodson in United States on May 19, 2018
Good product. Unfortunately there is an occasional mismanufacture and the tubes are not sealed.
... read more
Like Cheyanne extreme menthol
for Double Diamond 100's Menthol 10/20
by Bill Springer in Prescott, AZ on June 02, 2017
Taste like Cheyenne Extreme Menthol. Very non sweet peperminty. I don t like that, so it s gross to me.
... read more