Factory Smokes Sweet Robusto
5 x 54 - Natural - Bundle of 20
Strength: Medium
Shape: Robusto
Size: 5 x 54
Country: Nicaragua
Color: Natural
Flavor: Sweet Tip
Wrapper Origin: Not Available
Wrapper Leaf: Habano
Factory Smokes Sweet Robusto
5 x 54 - Natural - Single
Strength: Medium
Shape: Robusto
Size: 5 x 54
Country: Nicaragua
Color: Natural
Flavor: Sweet Tip
Wrapper Origin: Not Available
Wrapper Leaf: Habano
Factory Smokes Sweet Robusto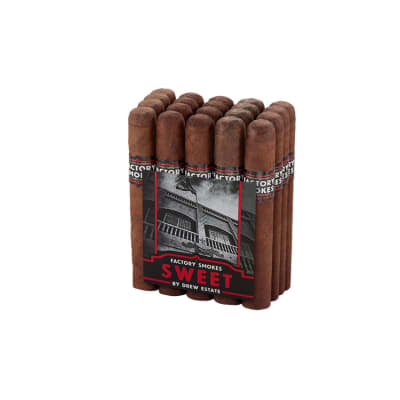 5 x 54 - Natural - Bundle of 20
Strength: Medium
Shape: Robusto
Size: 5 x 54
Country: Nicaragua
Color: Natural
Flavor: Sweet Tip
Wrapper Origin: Not Available
Wrapper Leaf: Habano
Recommended for you based on Factory Smokes Sweet Robusto
A real GEM!!!
for Factory Smokes Sweet Robusto
by Anthony Gattuso JR in TX on June 03, 2019
There are cigars you share..with others..this is not one of them.. When it comes to sweet cigars & great taste..The Sweet Robusto is the best..the others are really good..But the Robusto..has A little bit different taste..that makes it a true winner.. I smoke 2 or 3 a day..i don t share these cigars.. They are that good!! I hope they never go up on price.. This is a fantastic cigar!! Most folks can afford to smoke..Thank you!! Famous & Drew Estates
... read more
Every day smoke... worth the money
for Factory Smokes Sweet Robusto
by Armond in Georgia on May 20, 2019
It?s hard being a flavored cigar smoker to find value with flavor! This cigar does it and I will keep a couple of bundles on hand
... read more
I HATE these cigars.
for Factory Smokes Sweet Robusto
by Bob Sanders in Finland, MN on February 28, 2019
......so don t buy them.Really though.... these are a great smoke. Lightly sweetened and delicious. A better burn and not as infused as the Isla Del Sol. Testimony is evident on how hard they are to get now. Backordered on almost every site..... including this one.The Robusto are best. Then the Churchill. Both deliver the same taste and a tighter roll. Unhappy with the torpedo. Too loose and slightly different taste.
... read more
BEATS A BACCARTS BY A MILE!
for Factory Smokes Sweet Robusto
by Pastor Tony in Sanborn ny on December 14, 2018
Great draw, sweet tip, holds an ash and PRICED SUPER LOW for a DREW cigar. Now I can afford to smoke more than one Drew Estate cigars a week!
... read more