Infusions No. 7
Varies - Varies - Sampler of 8
Strength: Varies
Shape: Varies
Size: Varies
Country: Varies
Color: Varies
Flavor: Assortment
Wrapper Origin: Varies
Wrapper Leaf: Varies
1 Acid Liquid
1 Moontrance Robusto
1 Java Latte Robusto
1 Isla Del Sol Toro
1 Tabak Especial Robusto Negra
1 Tatiana Mocha Stobona
2 Acid Subculture Mantra
Infusions No. 7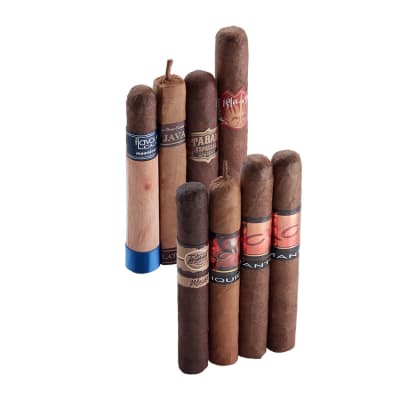 Varies - Varies - Sampler of 8
Strength: Varies
Shape: Varies
Size: Varies
Country: Varies
Color: Varies
Flavor: Assortment
Wrapper Origin: Varies
Wrapper Leaf: Varies
1 Acid Liquid
1 Moontrance Robusto
1 Java Latte Robusto
1 Isla Del Sol Toro
1 Tabak Especial Robusto Negra
1 Tatiana Mocha Stobona
2 Acid Subculture Mantra
Recommended for you based on Infusions No. 7
Smooth, Mellow, Coffee
for Isla Del Sol Toro
by Joel in Colorado on April 16, 2019
Awesome cigars for the price. Sweet, mellow, smooth, and solid burn.
... read more
Tabak Especial Robusto Negra Cigars
for Tabak Especial Robusto Negra
by Dennis in California on January 07, 2019
Throughout the years, I have had several of these cigars. The construction is outstanding. The draw and burn has always been good. I love the flavor, which is a slightly sweet coffee with a hint of chocolate.
... read more
One of my favorite Acids....
for Acid Subculture Mantra
by Thomas KULCHER in Mount Morris Michigan on December 14, 2018
Everything is great with this cigar....taste and sweetness are perfect for me....
... read more
Tasty Number
for Tatiana Mocha Stobona
by Darryl Maxwell in NC on December 14, 2018
A second try of this stick sold me. Clipped with a guillotine cut. Construction is firm with no soft spots or peeling of the wrapper. The pre-draw was clear, easy and tasteful. The smell of cocoa is present and pleasant. The smoke was very mild and tasty throughout the entire smoke. I have to deduct a couple points due to that it burns a tad fast and a bit uneven. Nonetheless it didn t overwhelm the enjoyment of the smoke, and it didn t deter me from purchasing another 5-pack. Good smoke for the beginner.
... read more