Iron Horse Closeout
Varies - Maduro - Sampler of 9
Strength: Medium
Shape: Varies
Size: Varies
Country: Dominican Republic
Color: Maduro
Flavor:
Wrapper Origin: Nicaraguan
Wrapper Leaf: Maduro
3 Iron Horse Robusto
3 Iron Horse Toro
3 Iron Horse Churchill
Iron Horse Closeout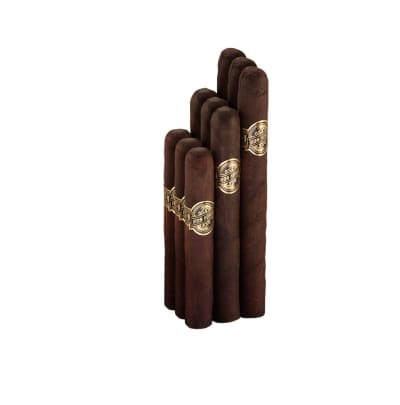 Varies - Maduro - Sampler of 9
Strength: Medium
Shape: Varies
Size: Varies
Country: Dominican Republic
Color: Maduro
Flavor:
Wrapper Origin: Nicaraguan
Wrapper Leaf: Maduro
Recommended for you based on Iron Horse Closeout
HEY.....NOT BAD
for Iron Horse Closeout
by russell in brigantine, n.j. on October 12, 2015
got em free on a coupon.... was not expecting much but not a bad dominican. maduro . I see the closeout price is 16 bucks for 9 cigars there worth that, nice flavor and aroma const. and burn ok draw good, iam going to buy 9 before there gone....hey at about 1.80 ....i:ll take 9 more
... read more
Good maduros for the price.
for Iron Horse Closeout
by Stefan in Raleigh, NC, USA on April 13, 2015
I got these on impulse while I was on vacation from one of this site s email deals. Wasn t expecting much because in my experience most inexpensive maduros are garbage. I was quite surprised by this buy. First off, nine cigars for $20 is nothing to sneeze at, so great value there. When I lit the first up, I was unimpressed by how it burned at first, but after the first half inch it evened out and I had no problems. The ash dropped off of most of these is very dark, which is usually the sign of low-quality tobacco, but you wouldn t know it from the taste. The construction is fantastic as well, although the wrapper does have a tendency to develop cracks as you smoke them. The biggest criticism I would have is that the draw can be very difficult, but it seems to get better the longer the smoke lasts. They have a strong scent and a nice bold flavor that I expect to get from a higher-priced maduro like an Acid or a Gurkha. I would definitely rank these on par with either of those brands. Iron Horse has made a fan out of me and I can definitely see myself buying more in the future.
... read more
Good Value Cigar
for
Iron Horse Closeout
by Mike M in Boise, ID on January 13, 2014
Verified purchase
Three out of the 9 cigars were like sticks and unsmokeable. 2 more had issues, but I got through them. They have decent flavor, and with a smokin price, you can get a couple of duds and still make it worthe it.
... read more
Iron Horse
for Iron Horse Closeout
by David in Joplin, MO on July 25, 2016
I bought the Closeout Sampler. While the robusto and the toro both smoked well the Churchill was very disappointing. With the first Churchill the wrapper came off after I cut the end for smoking and would not draw, the second one I used a punch and it was better but the cigar smoked unevenly and would not stay lit. I have not tried the third Churchill in the sampler but I am not expecting much. Again the Robusto and the Toro both smoked well.
... read more