Maroma Sorrel Corona
5 1/2 x 42 - Natural - Jar of 20
$23.95

$42.00
On Sale - 43% OFF

(ends 07/30)
Strength: Mellow
Shape: Corona
Size: 5 1/2 x 42
Country: Honduras
Color: Natural
Flavor: Chocolate
Wrapper Origin: Honduran
Wrapper Leaf: Connecticut Shade
Maroma Sorrel Corona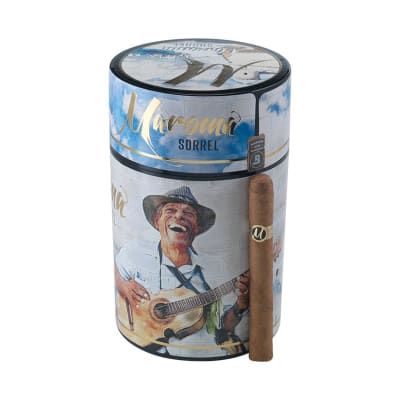 5 1/2 x 42 - Natural - Jar of 20
$23.95

$42.00
On Sale - 43% OFF

(ends 07/30)
Strength: Mellow
Shape: Corona
Size: 5 1/2 x 42
Country: Honduras
Color: Natural
Flavor: Chocolate
Wrapper Origin: Honduran
Wrapper Leaf: Connecticut Shade
Recommended for you based on Maroma Sorrel Corona
A nice mild smoke
for Maroma Sorrel Corona
by Paul A Kuntz Jr in GA on February 19, 2018
A nice mild smoke with a pleasant aroma that my wife even likes. A smooth draw with a nice taste with no bad after taste. A good anytimesmoke. Will be buying more.
... read more
Price Advantage
for Maroma Sorrel Corona
by Donald Rapposelli in Ohio on October 25, 2018
Great Smoke
for Maroma Sorrel Corona
by James in Maryland on May 17, 2018
I like how well these cigars smoke. The sweet tip is a great addition to the tobacco. They have a smooth draw and a great taste. The only issue is keeping it lit and that is probably because I smoke too slow. Also the taste gets a little weird towards the end of the last third.
... read more
Great cigar
for Maroma Sorrel Corona
by George in AZ on April 14, 2018
I an new to cigars as I have been a cigarette and pipe smoker for the past 66 years. Recently quit smoking but a neighbor had me try a cigar and again I was hooked. We have smoked different brands and at different prices. I really hate to smoke an 8 to 10 $ cigar when I was hoping I could find a lower cost cigar.... These Maroma Sorrels sure do a nice job. They smoke even, no bad taste, very good for the price.....
... read more