Odyssey Coffee Corona
5 x 44 - Maduro - Bundle of 12
On Sale - 30% OFF

(ends 07/05)
Strength: Medium
Shape: Corona
Size: 5 x 44
Country: Nicaragua
Color: Maduro
Flavor: Coffee
Wrapper Origin: Indonesian
Wrapper Leaf: Maduro
Odyssey Coffee Corona
5 x 44 - Maduro - Single
Strength: Medium
Shape: Corona
Size: 5 x 44
Country: Nicaragua
Color: Maduro
Flavor: Coffee
Wrapper Origin: Indonesian
Wrapper Leaf: Maduro
Odyssey Coffee Corona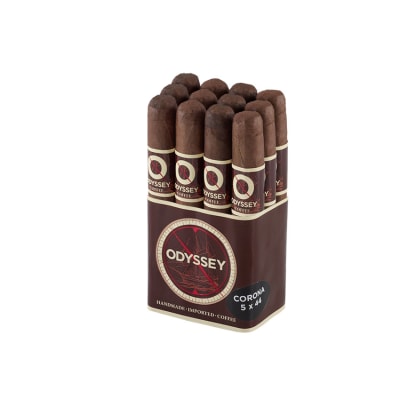 5 x 44 - Maduro - Bundle of 12
On Sale - 30% OFF

(ends 07/05)
Strength: Medium
Shape: Corona
Size: 5 x 44
Country: Nicaragua
Color: Maduro
Flavor: Coffee
Wrapper Origin: Indonesian
Wrapper Leaf: Maduro
Recommended for you based on Odyssey Coffee Corona
100% of reviewers recommend this product
Odyssey coffee madura
for Odyssey Coffee Corona
by Otto Ledeczi in MI on June 14, 2022
Delicious
for Odyssey Coffee Corona
by C Lopez in Id on May 19, 2021
Wonderful cigar! Other coffee infused taste like chemicals but this one has perfect balance. Definitely my go to cigar to get new people hooked!
... read more
Pleasant
for Odyssey Coffee Corona
by Todd in SC on October 10, 2020
So, this has aromas akin to a pipe. It smells fantastic and tastes like coffee and cocoa. Maybe not an everyday day smoke but certainly at least once a week!
... read more
Odyssey coffee cigar
for Odyssey Coffee Corona
by Davi Fowler in MO on June 17, 2021