Principe Palmas Natural
5 1/2 x 42 - Natural - Box of 55
Strength: Mellow
Shape: Corona
Size: 5 1/2 x 42
Country: Dominican Republic
Color: Natural
Flavor: Sweet
Wrapper Origin: Indonesian
Wrapper Leaf: Sumatra
Principe Palmas Natural
5 1/2 x 42 - Natural - Single
Strength: Mellow
Shape: Corona
Size: 5 1/2 x 42
Country: Dominican Republic
Color: Natural
Flavor: Sweet
Wrapper Origin: Indonesian
Wrapper Leaf: Sumatra
Principe Palmas Natural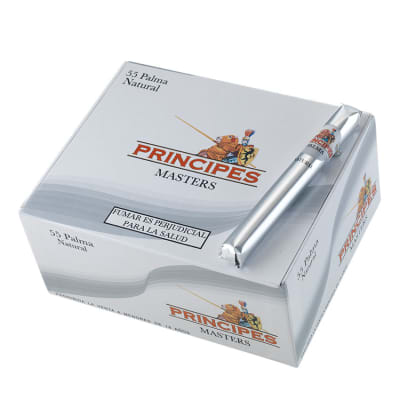 5 1/2 x 42 - Natural - Box of 55
Strength: Mellow
Shape: Corona
Size: 5 1/2 x 42
Country: Dominican Republic
Color: Natural
Flavor: Sweet
Wrapper Origin: Indonesian
Wrapper Leaf: Sumatra
Recommended for you based on Principe Palmas Natural
Great cigars
for
Principe Palmas Natural
by Joe Minor in Virginia on November 02, 2017
Verified purchase
These are one of the best machine made cigars I have found. Ordered another box today to take on vacation. The price is good on them also, try them, give them a shot.
... read more
Very good value fr the money
for Principe Palmas Natural
by Kamal Altafullah in Virginia on August 14, 2017
Great value
for Principe Palmas Natural
by Rod in Henning Mn on June 29, 2016
The draw is excellent, burn is excellent and no complaints on flavor, a great value
... read more
I might have gotten a bad box...
for
Principe Palmas Natural
by Warren Smith in Missouri on November 29, 2017
Verified purchase
I ordered a box of the Principe Palmas Naturals just over a month ago, as I had heard about them and saw that they had good reviews. I really wanted to like these, and the first one or two was just like everyone else said, smooth, easy draw, and good flavor. I really enjoyed them. However, after the first couple, they changed. I don t know if I got a bad run , or if the box was old or...what happened? But All the rest that I have smoked after the first couple, which at this point I only have about 15 left, they start off ok when I first light them, but then pretty quickly the mouth end of the cigar clogs up making it impossible to draw. I have to roll the end between my fingers to open it back up again, and I have to do this every few draws. I have also found I have to relight them fairly often as well. On top of this, most times the last half of the cigar gets a very bad bitter flavor too, at which point I usually just give up and put it out. I kept smoking the box, hoping that it was just going to be a few like that, and they would go back to being like the first couple. But so far with only a few left, they are all the same. Like I said, I don t know if I just got a bad run or what happened.When I ordered this box, I also ordered 4 of the Principe Palmas Vanilla, just to try the vanilla flavored ones. I lit one of those up today, and it was great. Had an easy consistent draw the whole way through, the mouth never clogged up, and it had a good smooth flavor throughout the entire cigar. I may try these if I order again, but I m a bit hesitant as I don t want to end up with another whole box of one s like I have. If they had all been like this last Vanilla one, for the price they would be a great cigar to smoke every day.
... read more