Principe Palmas Vanilla
5 1/2 x 42 - Natural - Box of 55
Strength: Mellow
Shape: Corona
Size: 5 1/2 x 42
Country: Dominican Republic
Color: Natural
Flavor: Vanilla
Wrapper Origin: Indonesian
Wrapper Leaf: Sumatra
Principe Palmas Vanilla
5 1/2 x 42 - Natural - Single
Strength: Mellow
Shape: Corona
Size: 5 1/2 x 42
Country: Dominican Republic
Color: Natural
Flavor: Vanilla
Wrapper Origin: Indonesian
Wrapper Leaf: Sumatra
Principe Palmas Vanilla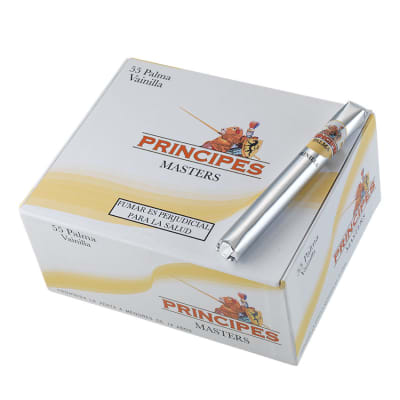 5 1/2 x 42 - Natural - Box of 55
Strength: Mellow
Shape: Corona
Size: 5 1/2 x 42
Country: Dominican Republic
Color: Natural
Flavor: Vanilla
Wrapper Origin: Indonesian
Wrapper Leaf: Sumatra
Recommended for you based on Principe Palmas Vanilla
Delightfully fantastic
for Principe Palmas Vanilla
by Robert in West .Kent on July 13, 2019
These are a crowd pleasure. If La aurora makes it is GREAT burns slowly very gentle, flavor stays from start,to finish Robert
... read more
great
for Principe Palmas Vanilla
by JohnQ in AZ on July 02, 2019
Wife loves them!
for Principe Palmas Vanilla
by Steve S in California on March 20, 2019
This is a good cigar for a quick fix. They are very consistent, easy to smoke, and the wife loves them. She s managed to get all of her friends smoking them as well.
... read more
very smooth enjoyable flavored cigar!
for Principe Palmas Vanilla
by Doug Logeman in Greensboro, NC on August 06, 2018