Principe Palmas Vanilla
5 1/2 x 42 - Natural - Box of 55
Strength: Mellow
Shape: Corona
Size: 5 1/2 x 42
Country: Dominican Republic
Color: Natural
Flavor: Vanilla
Wrapper Origin: Indonesian
Wrapper Leaf: Sumatra
Principe Palmas Vanilla
5 1/2 x 42 - Natural - Single
Strength: Mellow
Shape: Corona
Size: 5 1/2 x 42
Country: Dominican Republic
Color: Natural
Flavor: Vanilla
Wrapper Origin: Indonesian
Wrapper Leaf: Sumatra
Principe Palmas Vanilla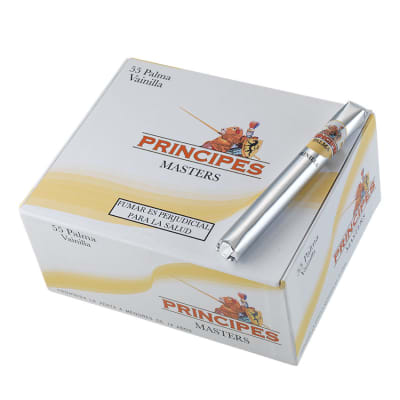 5 1/2 x 42 - Natural - Box of 55
Strength: Mellow
Shape: Corona
Size: 5 1/2 x 42
Country: Dominican Republic
Color: Natural
Flavor: Vanilla
Wrapper Origin: Indonesian
Wrapper Leaf: Sumatra
Recommended for you based on Principe Palmas Vanilla
Wife loves them!
for Principe Palmas Vanilla
by Steve S in California on March 20, 2019
This is a good cigar for a quick fix. They are very consistent, easy to smoke, and the wife loves them. She s managed to get all of her friends smoking them as well.
... read more
very smooth enjoyable flavored cigar!
for Principe Palmas Vanilla
by Doug Logeman in Greensboro, NC on August 06, 2018
Prefect Everyday smoke
for
Principe Palmas Vanilla
by Joel in Halifax Canada on November 07, 2017
Verified purchase
I enjoy these as my Everyday Smoke Great smell, Good burn, Great price,and Good quality. Went to the factory and learnt about their company and process. Ive bought many of these boxes over the years .
... read more
Great replacement cigar for the dutch master or GyV Game
for Principe Palmas Vanilla
by FiberSwimmer in CT, USA on August 02, 2016
Machine rolled just like a Dutch Master or Garcia y Vega Game, with an outer leaf wrapped, and an inner paper glued together. Outer leaf thickness is right in between dutch thicker than and Game thinner than . Good even burn, not too much glue used on inner paper. Something to note, this does not have the extra thick paper between the leaf and inner paper on the mouthpiece like a Dutch or a Game.
... read more