'Private Stash' Travel Humidor
Mahogany
$12.95

$30.00
On Sale - 57% OFF

(ends 09/30)
Description
One of the most affordable cigar humidors you can buy, this mahogany Private Stash cigar humidor will keep up to 18 cigars fresh on your travels and your desktop. Lined in kiln-dried Spanish cedar, the lid has a good seal, and makes a good starter box for new cigar smokers. (Humidifier included.)
Size: Small
Capacity: 18
Trays: Small
Material: Wood Veneer
Color: Mahogany
Hygrometer: No
Humidification Device: Yes
Width: 7.00
Depth: 5.38
Height: 1.88
'Private Stash' Travel Humidor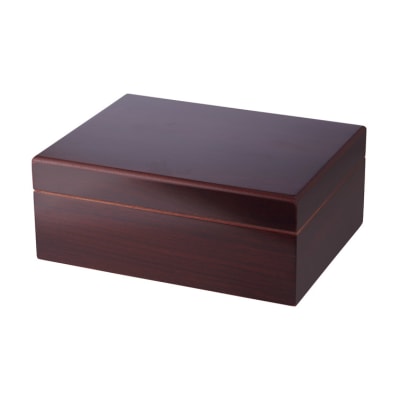 Mahogany
$12.95

$30.00
On Sale - 57% OFF

(ends 09/30)
Description
One of the most affordable cigar humidors you can buy, this mahogany Private Stash cigar humidor will keep up to 18 cigars fresh on your travels and your desktop. Lined in kiln-dried Spanish cedar, the lid has a good seal, and makes a good starter box for new cigar smokers. (Humidifier included.)
Size: Small
Capacity: 18
Trays: Small
Material: Wood Veneer
Color: Mahogany
Hygrometer: No
Humidification Device: Yes
Width: 7.00
Depth: 5.38
Height: 1.88
Recommended for you based on 'Private Stash' Travel Humidor
Rating
for 'Private Stash' Travel Humidor
by Jason Hanley in Tennessee on March 19, 2019
Great Little Humidor
for 'Private Stash' Travel Humidor
by Ted Brown in Tn on September 06, 2018
I bought this for my 21 year old son. He ll be traveling a lot in the next few years. He started smoking cigars 6 months ago, and this seemed like the perfect gift. It was on a massive sale, and I got it for 14 dollars. The Humidor has smashed all of my expectations. The seal is tight, the finish of the box is exceptional, and the humidifier works wonderfully after I charged it . My son was blown away by the gift...and what was inside. Great purchase, fast shipping, and expert packing. Couldn t be more pleased.
... read more
Great starter for a great price
for 'Private Stash' Travel Humidor
by Phil Daddy in South carolina on July 01, 2018
The first humidor I ever purchased and I m very satisfied with how it keeps my cigars. No issues what so ever and I like the very simple yet elegant look of it
... read more
Humidor
for 'Private Stash' Travel Humidor
by Jesse Shetka in Minnesota on February 02, 2018
Its a nice, beautiful little box. I just got into the hobby and purchased it as my first humidor. I quickly loved smoking cigars so I bought a larger one and will be gifting this to a friend. You can t beat this little box for the price.
... read more