Rough Rider Sweets Gordo
6 x 60 - Natural - Box of 25
Strength: Mellow
Shape: Toro
Size: 6 x 60
Country: Dominican Republic
Color: Natural
Flavor: Sweet Tip
Wrapper Origin: Ecuadorian
Wrapper Leaf: Connecticut Shade
Rough Rider Sweets Gordo
6 x 60 - Natural - Single
Strength: Mellow
Shape: Toro
Size: 6 x 60
Country: Dominican Republic
Color: Natural
Flavor: Sweet Tip
Wrapper Origin: Ecuadorian
Wrapper Leaf: Connecticut Shade
Rough Rider Sweets Gordo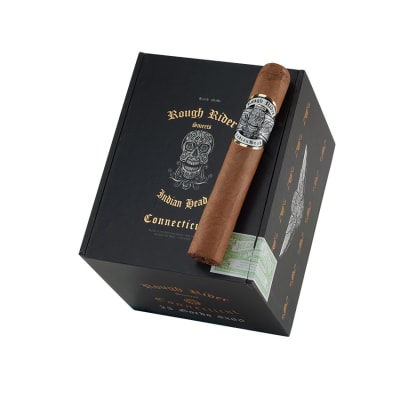 6 x 60 - Natural - Box of 25
Strength: Mellow
Shape: Toro
Size: 6 x 60
Country: Dominican Republic
Color: Natural
Flavor: Sweet Tip
Wrapper Origin: Ecuadorian
Wrapper Leaf: Connecticut Shade
Recommended for you based on Rough Rider Sweets Gordo
ABOUT ROUGH RIDER SWEETS GORDO: FULL SPECIFICATIONS Strength:Mellow Shape:Toro Size:6 x 60 Country:Dominican Republic Color:Natural Flavor:Sweet Tip Wrapper Origin:Ecuadorian Wrapper Leaf:Connecticut Shade
for Rough Rider Sweets Gordo
by Omar perez in Miami, FL on June 04, 2018
These cigars have a silky smooth smoke and have a sweetened tip. Where most cigars that are sweet to hide the lower quality tobacco; this cigars instead uses a high quality blend in this long filler blend of Cuban-seed. The cigar utilizes an Ecuadorian wrapper with a filler blend of piloto Cubano and Criollo 98, making this an extra special smoke. A mild cigar with natural tobacco flavors with a bit of sweetness, notes of honey, wine , and a sugary cane note to bring this cigars all together. This is truly and execptional smoke at a more then exexptional price.
... read more
Over all great smoke.
for Rough Rider Sweets Gordo
by Butch in Omaha, NE on December 14, 2018
Great smoke, it burns well and lasts 45-60 minutes.
... read more