Rough Rider Sweets Toro
6 x 52 - Natural - Box of 25
Strength: Mellow
Shape: Toro
Size: 6 x 52
Country: Dominican Republic
Color: Natural
Flavor: Sweet Tip
Wrapper Origin: Ecuadorian
Wrapper Leaf: Connecticut Shade
Rough Rider Sweets Toro 5PK
6 x 52 - Natural - Pack of 5
Strength: Mellow
Shape: Toro
Size: 6 x 52
Country: Dominican Republic
Color: Natural
Flavor: Sweet Tip
Wrapper Origin: Ecuadorian
Wrapper Leaf: Connecticut Shade
Rough Rider Sweets Toro
6 x 52 - Natural - Single
Strength: Mellow
Shape: Toro
Size: 6 x 52
Country: Dominican Republic
Color: Natural
Flavor: Sweet Tip
Wrapper Origin: Ecuadorian
Wrapper Leaf: Connecticut Shade
Rough Rider Sweets Toro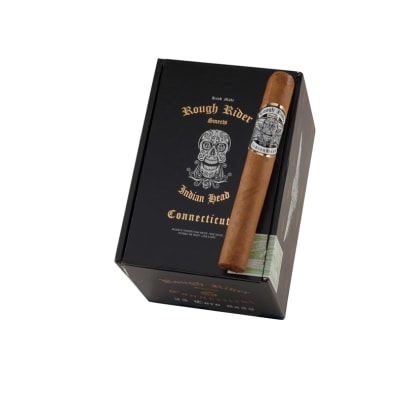 6 x 52 - Natural - Box of 25
Strength: Mellow
Shape: Toro
Size: 6 x 52
Country: Dominican Republic
Color: Natural
Flavor: Sweet Tip
Wrapper Origin: Ecuadorian
Wrapper Leaf: Connecticut Shade
Recommended for you based on Rough Rider Sweets Toro
Rough Rider Toro
for Rough Rider Sweets Toro
by Douglas Beecher in Fairfield CA. on February 09, 2019
This is a excellent and delightful cigar. The construction was great! The burn was even and the draw was great. It a hour of smooth relaxing comfort. I will smoke this 1 again a d again! 5x star from me.
... read more
Rough rider toro review
for Rough Rider Sweets Toro
by Don stane in Arkansas on September 25, 2018
Very good if you like kuba kuba fron acid. Price is very good and great infused smoke. Burns well and smooth draw without bitter taste.
... read more
Mild, too sweet
for Rough Rider Sweets Toro
by Moto_Guzzisti in NM on February 16, 2017
I received one of these from FS for free in my first order from them with a request for an honest review. Left it in the humidor for 2 months, and finally tried it tonight. First of all, I m not a fan of CT wrappers, so this stick had an uphill battle. The construction is solid, and it draws well. The burn is somewhat uneven, but nothing too bad. The flavor is very mild and smooth, but the cap is just too sweet. This is coming from a guy who really likes sweet, flavored cigars, but this stick just has a strange flavor. Probably partly because I don t like the CT wrapper, but certainly also because whatever they used to sweeten the cap has an odd flavor. If this were a darker variety of wrapper and the cap wasn t so sweet, it might be good enough to try again.
... read more