Rough Rider Sweets Lonsdale
6 x 44 - Natural - Box of 25
Strength: Mellow
Shape: Lonsdale
Size: 6 x 44
Country: Dominican Republic
Color: Natural
Flavor: Sweet Tip
Wrapper Origin: Ecuadorian
Wrapper Leaf: Connecticut Shade
Rough Rider Sweets Lonsdale
6 x 44 - Natural - Pack of 5
Strength: Mellow
Shape: Lonsdale
Size: 6 x 44
Country: Dominican Republic
Color: Natural
Flavor: Sweet Tip
Wrapper Origin: Ecuadorian
Wrapper Leaf: Connecticut Shade
Rough Rider Sweets Lonsdale
6 x 44 - Natural - Single
Strength: Mellow
Shape: Lonsdale
Size: 6 x 44
Country: Dominican Republic
Color: Natural
Flavor: Sweet Tip
Wrapper Origin: Ecuadorian
Wrapper Leaf: Connecticut Shade
Rough Rider Sweets Lonsdale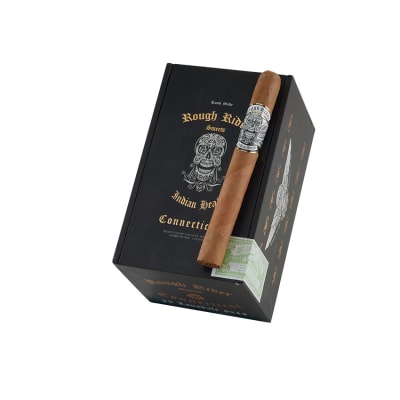 6 x 44 - Natural - Box of 25
Strength: Mellow
Shape: Lonsdale
Size: 6 x 44
Country: Dominican Republic
Color: Natural
Flavor: Sweet Tip
Wrapper Origin: Ecuadorian
Wrapper Leaf: Connecticut Shade
Recommended for you based on Rough Rider Sweets Lonsdale
75% of reviewers recommend this product
Great everyday smoke
for Rough Rider Sweets Lonsdale
by Terry in Amarillo on October 30, 2020
Bought a box of these after reading the reviews on them. They smoke great and even. They do have a sweet tip which I enjoy.They re priced low enough that I keep a few in my travel box for when I go golfing I ll hand these out to the guys and won t break the bank. Haven t had anyone that doesn t enjoy them.
... read more
great first time cigar
for Rough Rider Sweets Lonsdale
by harold in Washington on August 16, 2020
mellow and you can really taste the sweet tip recommend this cigar for first time smokers
... read more
Great smoke at a great price
for Rough Rider Sweets Lonsdale 5PK
by John in Arkansas on May 30, 2020
This cigar was recommended to me by an employee at the local cigar shop. I really enjoy the Acid Kuba Kuba, but they are pricey. This stick is about half the price. I lite one up last night and the wrapper is sweet like the acid, it has a great draw, doesn?t burn the tongue, and good aroma. This was a very satisfying cigar. Highly recommend.
... read more
Hot
for Rough Rider Sweets Lonsdale
by Jessie Wood in Pensacola, FL on November 21, 2022
My cigar was constructed between the firm and spongy side. The draw and burn were both good, but I found it to be more of a medium smoke rather than a mild one. Even from the beginning, it left a burn taste on my tongue.
... read more