Stainless Steel Cigar Tube 6.5 Inches Long
48 Ring Gauge Cigars
Description
This rich-looking stainless steel cigar tube will accommodate a cigar of up to 6 1/2 x 48 ring gauge. It's refined enough to tuck into your tuxedo pocket, yet practical enough to carry in your blue jeans. Durable construction protects your cigar, so you
Stainless Steel Cigar Tube 6.5 Inches Long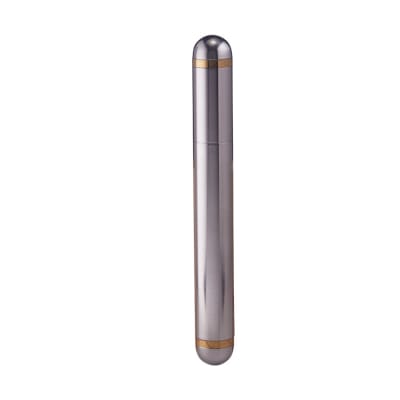 Description
This rich-looking stainless steel cigar tube will accommodate a cigar of up to 6 1/2 x 48 ring gauge. It's refined enough to tuck into your tuxedo pocket, yet practical enough to carry in your blue jeans. Durable construction protects your cigar, so you
Recommended for you based on Stainless Steel Cigar Tube 6.5 Inches Long
100% of reviewers recommend this product
great item
for Stainless Steel Cigar Tube 6.5 Inches Long
by KEVIN NAKAMURA in HAWAII on July 24, 2019
this cigar saver is the best! after ordering it the first time, had to order more to share with friends. But when I tried it was NIS. had to wait 2.5 months for it to come in.
... read more
The corners
for Stainless Steel Cigar Tube 6.5 Inches Long
by Andon in Illinois on November 15, 2017
The top and bottom parts fall off. Very purely glued. I wish they made it all 1 piece, it would have been much stronger.
... read more