Swisher Sweets Cigarillos 69c
4 7/8 x 28 - Natural - Box of 60
Description
Swisher International Group accounts for owning and marketing electronic and smokeless devices, as well as many small cigars. They pride themselves on their mild and sweet smokes, produced from a secret mixture of special flavors and quality tobaccos. A Swisher smoke is great for your next lunch or
Strength: Mellow
Shape: Cigarillo
Size: 4 7/8 x 28
Country: Dominican Republic
Color: Natural
Flavor: Sweet
Wrapper Origin: Homogenized
Wrapper Leaf: Homogenized
Swisher Sweets Cigarillos 69c
4 7/8 x 28 - Natural - Single
Description
Swisher International Group accounts for owning and marketing electronic and smokeless devices, as well as many small cigars. They pride themselves on their mild and sweet smokes, produced from a secret mixture of special flavors and quality tobaccos. A Swisher smoke is great for your next lunch or
Strength: Mellow
Shape: Cigarillo
Size: 4 7/8 x 28
Country: Dominican Republic
Color: Natural
Flavor: Sweet
Wrapper Origin: Homogenized
Wrapper Leaf: Homogenized
Swisher Sweets Cigarillos 69c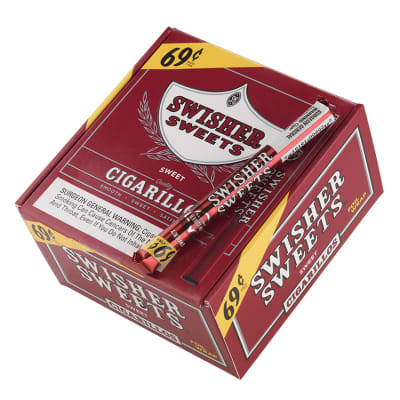 4 7/8 x 28 - Natural - Box of 60
Description
Swisher International Group accounts for owning and marketing electronic and smokeless devices, as well as many small cigars. They pride themselves on their mild and sweet smokes, produced from a secret mixture of special flavors and quality tobaccos. A Swisher smoke is great for your next lunch or
Strength: Mellow
Shape: Cigarillo
Size: 4 7/8 x 28
Country: Dominican Republic
Color: Natural
Flavor: Sweet
Wrapper Origin: Homogenized
Wrapper Leaf: Homogenized
Recommended for you based on Swisher Sweets Cigarillos 69c
Great. But work on the peeling off the foil wrapper.
for Swisher Sweets Cigarillos 69c
by Darryl Williams in MARYLAND on August 28, 2018
Wrappers are fine.
for Swisher Sweets Cigarillos 69c
by Steve in Montana on April 15, 2015
Take you re time and pull them straight around the cigar and you won t have any problems. Get in a hurry, and you ll be one of the people complaining.
... read more
Don't Listen to Any of the Other Reviews on This
for
Swisher Sweets Cigarillos 69c
by Anonymous in on September 21, 2014
Verified purchase
Don't listen to any of the other reviews on this site. The foil wrap is perfectly easy to open and I never have had a problem. The foil wrap keeps the cigar perfectly fresh much, much longer than the old wrap. If you want fresh Swishers and especially if you live outside the USA, these are the ones you want.
... read more
Great Cigar
for Swisher Sweets Cigarillos 69c
by DB in Upper Marlboro, MD on July 22, 2010
This is a great mild sweet cigar. I love it. I am hooked. Haven't really smoked a good cigar since joining the miltary in 1984. Don't have to cut it. Great taste. This one is perfect.
... read more