Swisher Sweets Perfecto
5 x 41 - Natural - Box of 60
Description
Swisher International Group is responsible for owning and marketing electronic and smokeless devices, and of course many small cigars. They pride themselves on their mild and sweet smokes, created from a secret combination of special flavors and quality tobaccos. A Swisher smoke is ideal for your up
Strength: Mellow
Shape: Figurado
Size: 5 x 41
Country: Dominican Republic
Color: Natural
Flavor: Sweet
Wrapper Origin: Homogenized
Wrapper Leaf: Homogenized
Swisher Sweets Perfecto
5 x 41 - Natural - Single
Description
Swisher International Group is responsible for owning and marketing electronic and smokeless devices, and of course many small cigars. They pride themselves on their mild and sweet smokes, created from a secret combination of special flavors and quality tobaccos. A Swisher smoke is ideal for your up
Strength: Mellow
Shape: Figurado
Size: 5 x 41
Country: Dominican Republic
Color: Natural
Flavor: Sweet
Wrapper Origin: Homogenized
Wrapper Leaf: Homogenized
Swisher Sweets Perfecto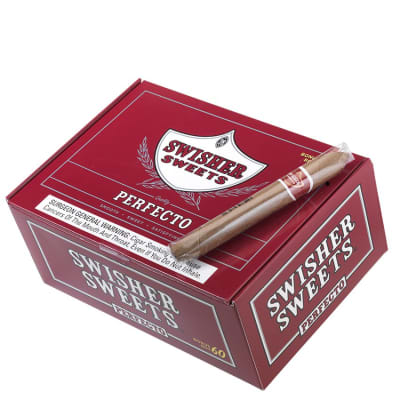 5 x 41 - Natural - Box of 60
Description
Swisher International Group is responsible for owning and marketing electronic and smokeless devices, and of course many small cigars. They pride themselves on their mild and sweet smokes, created from a secret combination of special flavors and quality tobaccos. A Swisher smoke is ideal for your up
Strength: Mellow
Shape: Figurado
Size: 5 x 41
Country: Dominican Republic
Color: Natural
Flavor: Sweet
Wrapper Origin: Homogenized
Wrapper Leaf: Homogenized
Recommended for you based on Swisher Sweets Perfecto
the best cigar ive ever had
for
Swisher Sweets Perfecto
by James in philadelphia on July 15, 2014
Verified purchase
best cigar i have had even though im new to cigar smoking great sweet taste and last for a good half hour
... read more
for Swisher Sweets Perfecto
by mike in augusta, georgia on March 22, 2012
they have a great sweet taste,and the aroma is the best,would not smoke any thig else
... read more
Great "cheap" cigar
for Swisher Sweets Perfecto
by Brent in Granite City, Il on April 09, 2013
I've been smoking Swisher Sweets for three years and the perfecto is my favorite. The burn and consistency is okay for being machine made but the taste is always great with a cold drink.
... read more
great affordable cigar.won,t smoke anything eles.
for Swisher Sweets Perfecto
by adolfo prokuda in rialto calif on December 13, 2011
not all packes are good rolls. improve on the rolling not go up on the price. I,ve smoked expensive cigars, none match the teast of a perecto. I,m hooked on this cigar. keep up the good work.
... read more