Talon Filtered Cigars Grape 10/20
3 7/8 x 24 - Natural - Carton of 200
Strength: Mellow
Shape: Filtered Cigar
Size: 3 7/8 x 24
Country: United States
Color: Natural
Flavor: Grape
Wrapper Origin: Homogenized
Wrapper Leaf: Homogenized
Talon Filtered Cigars Grape (20)
3 7/8 x 24 - Natural - Pack of 20
Strength: Mellow
Shape: Filtered Cigar
Size: 3 7/8 x 24
Country: United States
Color: Natural
Flavor: Grape
Wrapper Origin: Homogenized
Wrapper Leaf: Homogenized
Talon Filtered Cigars Grape 10/20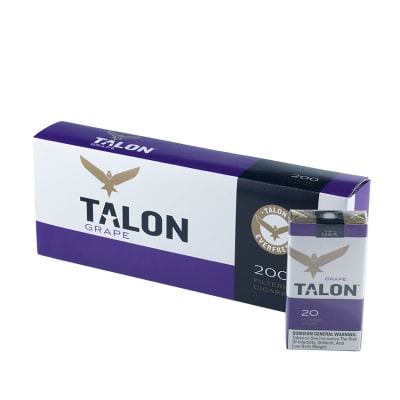 3 7/8 x 24 - Natural - Carton of 200
Strength: Mellow
Shape: Filtered Cigar
Size: 3 7/8 x 24
Country: United States
Color: Natural
Flavor: Grape
Wrapper Origin: Homogenized
Wrapper Leaf: Homogenized
Recommended for you based on Talon Filtered Cigars Grape 10/20
Packaging
for Talon Filtered Cigars Grape (20)
by Joe Carpenter in OH - Ohio on August 10, 2019
Talon hard packs are fresher and. More flavorful than the soft packs
... read more
yummmmm
for Talon Filtered Cigars Grape (20)
by Michelle R in Florida on December 20, 2017
they do have a tendency to go out and need to be relit, but the flavor is good, and the cost is great!!!
... read more
Chemically tasting
for Talon Filtered Cigars Grape 10/20
by Bill Springer in Prescott, AZ on March 24, 2017
The tobacco just tastes very chemically tasting. A little grape is sprayed on the tip. Very terrible tasting.
... read more