Tatiana Dolce Tropical
4 3/4 x 30 - Natural - Box of 50
Strength: Mellow
Shape: Cigarillo
Size: 4 3/4 x 30
Country: Dominican Republic
Color: Natural
Flavor: Fruit
Wrapper Origin: Indonesian
Wrapper Leaf: Sumatra
Tatiana Dolce Tropical
4 3/4 x 30 - Natural - Single
Strength: Mellow
Shape: Cigarillo
Size: 4 3/4 x 30
Country: Dominican Republic
Color: Natural
Flavor: Fruit
Wrapper Origin: Indonesian
Wrapper Leaf: Sumatra
Tatiana Dolce Tropical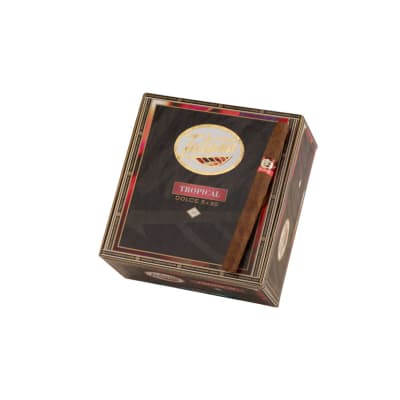 4 3/4 x 30 - Natural - Box of 50
Strength: Mellow
Shape: Cigarillo
Size: 4 3/4 x 30
Country: Dominican Republic
Color: Natural
Flavor: Fruit
Wrapper Origin: Indonesian
Wrapper Leaf: Sumatra
Recommended for you based on Tatiana Dolce Tropical
pleasant smoke
for
Tatiana Dolce Tropical
by m.winter in Hawaii on October 06, 2013
Verified purchase
I'm a noob when it comes to cigars, but I enjoy this stick. I guess it's a little hot to start, but half way it's nice. I like it. The tropical is not over done. If you like other Tatiana's of this size it's worth a try.
... read more
Slow Burn, Same Taste Til The End
for Tatiana Dolce Tropical
by Robert Massey in Raleigh, NC on December 31, 2010
The Tatiana is a wonderful Cigar from beginning to end. Myself, I love all the sizes and try to keep them on hand. They all are slow burning and hold the flavor to the end. I even leave enough to chew for a hour or so. I also love most all of the flavors. Hope you enjoy as much as I do!
... read more