Tatiana Miniature Cherry
3 1/2 x 26 - Natural - Bundle of 25
Strength: Mellow
Shape: Cigarillo
Size: 3 1/2 x 26
Country: Dominican Republic
Color: Natural
Flavor: Cherry
Wrapper Origin: Indonesian
Wrapper Leaf: Sumatra
Tatiana Miniature Cherry
3 1/2 x 26 - Natural - Single
Strength: Mellow
Shape: Cigarillo
Size: 3 1/2 x 26
Country: Dominican Republic
Color: Natural
Flavor: Cherry
Wrapper Origin: Indonesian
Wrapper Leaf: Sumatra
Tatiana Miniature Cherry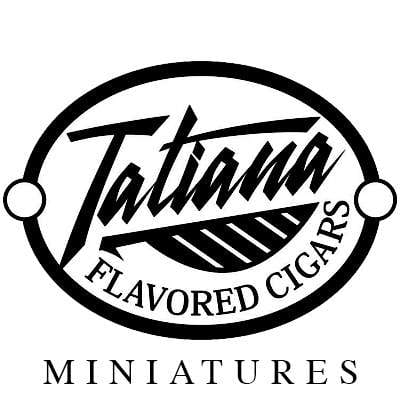 3 1/2 x 26 - Natural - Bundle of 25
Strength: Mellow
Shape: Cigarillo
Size: 3 1/2 x 26
Country: Dominican Republic
Color: Natural
Flavor: Cherry
Wrapper Origin: Indonesian
Wrapper Leaf: Sumatra
Recommended for you based on Tatiana Miniature Cherry
First experience
for Tatiana Miniature Cherry
by Sonja Hicks in MIAMI FL on August 27, 2018
My only complaint is that they should have been a little bit bigger, other than that I love them, there very good and it was my first time trying them. If they come bigger please let me know.
... read more
Good Buy
for Tatiana Miniature Cherry
by Anthony in Jacksonville, FL on January 23, 2018
These are great Mild but I didn t anticipated how small they were. I was looking for a small and mild cigar but these were a little too small. But I love the flavor and the smoke on these.. Will buy the tins which are larger next time
... read more
Always coming back for more
for
Tatiana Miniature Cherry
by Ed in Paola, KS on February 25, 2012
Verified purchase
I've noticed there's almost a bit of a rivalry between those who smoke flavored cigars, premiums, and the "in-between" infused cigars. Personally,I like to think of myself as a floater between the three rhealms. I like a good premium in late evenings, and flavored cigars just seem to pep up my morning. The Tatiana Chrerry mini cigars are one of my favorites.I first discovered these cigars in a little shop in Colorado Springs a few years back, and they never disappoint. The flavor is nice and light with just enough flavoring. Burn is consistent if a bit fast (it is a mini cigar after all). It's the perfect cigar for when you don't want anything too heavy tasting and don't want to smoke for long. You'll get about 15 minutes out of these before the nub gets hot. All in all, a great little cigar for a drive to the grocery store, break time at work, or for when you need a quick treat.
... read more
Overall Terrible Cigar
for Tatiana Miniature Cherry
by Andrew in Cleveland,Ohio on June 14, 2012
The Taste was terrible, artificial. Bad draw. Dont waste your money.
... read more