Tatiana Robusto Groovy Blue
5 x 50 - Natural - Box of 25
Strength: Mellow
Shape: Robusto
Size: 5 x 50
Country: Dominican Republic
Color: Natural
Flavor: Vanilla
Wrapper Origin: Indonesian
Wrapper Leaf: Sumatra
Tatiana Robusto Groovy Blue
5 x 50 - Natural - Single
Strength: Mellow
Shape: Robusto
Size: 5 x 50
Country: Dominican Republic
Color: Natural
Flavor: Vanilla
Wrapper Origin: Indonesian
Wrapper Leaf: Sumatra
Tatiana Robusto Groovy Blue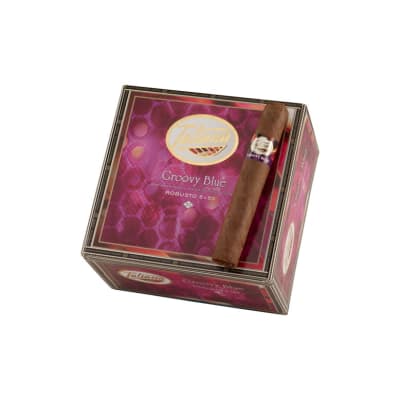 5 x 50 - Natural - Box of 25
Strength: Mellow
Shape: Robusto
Size: 5 x 50
Country: Dominican Republic
Color: Natural
Flavor: Vanilla
Wrapper Origin: Indonesian
Wrapper Leaf: Sumatra
Recommended for you based on Tatiana Robusto Groovy Blue
great taste
for Tatiana Robusto Groovy Blue
by brian shroyer in san antonio texas on June 28, 2017
If you are looking for a flavored cigar that is a world class, hand made cigar this is the one. These cigars use great tobacco to get a great flavor and you will find non cigar smokers that are around you are not put off by their smell. I have had strangers approach me because the smell is so enticing that want to know what I am smoking.
... read more
Great cigar
for Tatiana Robusto Groovy Blue
by Bobby in on December 12, 2015
robustos
for Tatiana Robusto Groovy Blue
by JUAN A RODRIGUEZ in 16 NOLAN ST NORWALK CT 06850 on June 21, 2019
I m getting a couple of boxes and I was wondering if you can sent me some coupons. I love the Groovy Blue robustos and also want the Cherry favor Robustos. thank you...
... read more