Tatiana Miniature Chocolate
3 1/2 x 26 - Natural - Bundle of 25
Strength: Mellow
Shape: Cigarillo
Size: 3 1/2 x 26
Country: Dominican Republic
Color: Natural
Flavor: Chocolate
Wrapper Origin: Indonesian
Wrapper Leaf: Sumatra
Tatiana Miniature Chocolate
3 1/2 x 26 - Natural - Single
Strength: Mellow
Shape: Cigarillo
Size: 3 1/2 x 26
Country: Dominican Republic
Color: Natural
Flavor: Chocolate
Wrapper Origin: Indonesian
Wrapper Leaf: Sumatra
Tatiana Miniature Chocolate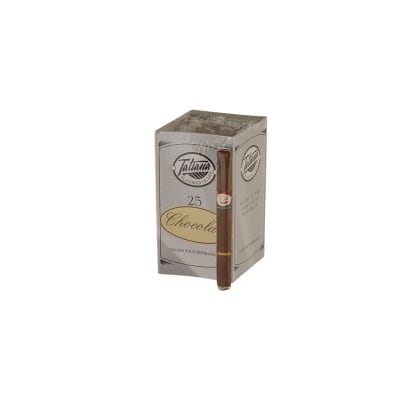 3 1/2 x 26 - Natural - Bundle of 25
Strength: Mellow
Shape: Cigarillo
Size: 3 1/2 x 26
Country: Dominican Republic
Color: Natural
Flavor: Chocolate
Wrapper Origin: Indonesian
Wrapper Leaf: Sumatra
Recommended for you based on Tatiana Miniature Chocolate
Enjoyable
for Tatiana Miniature Chocolate
by Tim garris in Ohio on June 19, 2019
Not a fan of flavored cigars, but I love chocolate and these quick smokes hit the mark.
... read more
Tatiana Cigars are awesome..
for Tatiana Miniature Chocolate
by Melinda Muhlitner in Prescott, Arizona on October 11, 2018
Love these little cigars! Very flavorful and just the right size for me. I never seem to have to much time to take smoke breaks, so these are perfect!
... read more
Best Chocolate Cigar
for Tatiana Miniature Chocolate
by Ivan in California on December 19, 2014
I ve tried many different cheap n expensive chocolate cigars n by far these are the best ones I ve found in all my travels in usa
... read more
Nice hit of chocolate
for Tatiana Miniature Chocolate
by A. L. Burke in Jamaica NY on January 04, 2017
This is perfect for a short walk or break. The chocolate flavor is fine. I ve found this thin, short cigar gets hot real fast. So I shopped around and I managed to find the cigar mouthpiece holder that will fit these tiny things. An 8 mm cigar holder is the right fit thing for these and will allow you to smoke more than half of the cigarillo. I ve ordered mine, so now I m telling people.
... read more