Tatiana Miniature Rum
3 1/2 x 26 - Natural - Bundle of 25
Description
Short on time? Tatiana Miniature Rum cigarillos present rich tobacco taste with the flavor of sweet island spice rum in a little cafe cigar. Blended with choice Cuban seed fillers, mild Indonesian wrappers that are aged two years to ensure a smooth, satisfying smoke. (Packaged in a bundle of 25.)
Strength: Mellow
Shape: Cigarillo
Size: 3 1/2 x 26
Country: Dominican Republic
Color: Natural
Flavor: Rum
Wrapper Origin: Indonesian
Wrapper Leaf: Sumatra
Tatiana Miniature Rum
3 1/2 x 26 - Natural - Single
Description
Short on time? Tatiana Miniature Rum cigarillos present rich tobacco taste with the flavor of sweet island spice rum in a little cafe cigar. Blended with choice Cuban seed fillers, mild Indonesian wrappers that are aged two years to ensure a smooth, satisfying smoke. (Packaged in a bundle of 25.)
Strength: Mellow
Shape: Cigarillo
Size: 3 1/2 x 26
Country: Dominican Republic
Color: Natural
Flavor: Rum
Wrapper Origin: Indonesian
Wrapper Leaf: Sumatra
Tatiana Miniature Rum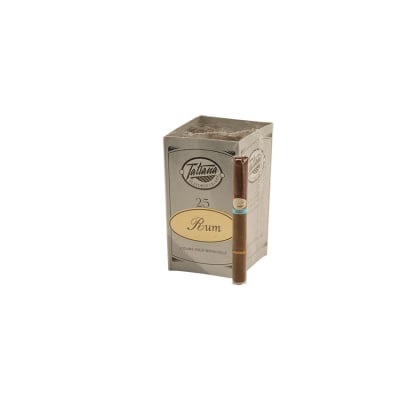 3 1/2 x 26 - Natural - Bundle of 25
Description
Short on time? Tatiana Miniature Rum cigarillos present rich tobacco taste with the flavor of sweet island spice rum in a little cafe cigar. Blended with choice Cuban seed fillers, mild Indonesian wrappers that are aged two years to ensure a smooth, satisfying smoke. (Packaged in a bundle of 25.)
Strength: Mellow
Shape: Cigarillo
Size: 3 1/2 x 26
Country: Dominican Republic
Color: Natural
Flavor: Rum
Wrapper Origin: Indonesian
Wrapper Leaf: Sumatra
Recommended for you based on Tatiana Miniature Rum
Quite possibly the best thing ever.
for Tatiana Miniature Rum
by todd in sealy on July 06, 2003
Man we smoked these in Myrtle Beach..they are off the hizzle my nizzle.They are the best things ever
... read more
Tatiana Miniature Rum
for
Tatiana Miniature Rum
by Charlie in on August 09, 2011
Verified purchase
I ordered these cigars based on the reviews and that I was looking for a small cigar. I was very disappointed with the first one I smoked do to the fact it is not wrapped well and it fell apart in my mouth, not to mention not being able to keep it lit. I don't know whether to give them another chance, or to throw the other 24 smokes in the trash. I wasted hard earned money on them and would not recommend these cigars.
... read more