Top Rated Flavor Tin Pairing
4 x 30 - Varies - Sampler of 6
Strength: Mellow
Shape: Cigarillo
Size: 4 x 30
Country: Varies
Color: Varies
Flavor: Assortment
Wrapper Origin: Varies
Wrapper Leaf: Varies
1 Moontrance Robusto
1 Tabak Especial Robusto Dulce
1 Tatiana Mocha Stobona
1 Maroma Sorrel Robusto
1 Maroma Tawny Robusto
1 Maroma Venetian Robusto
Top Rated Flavor Tin Pairing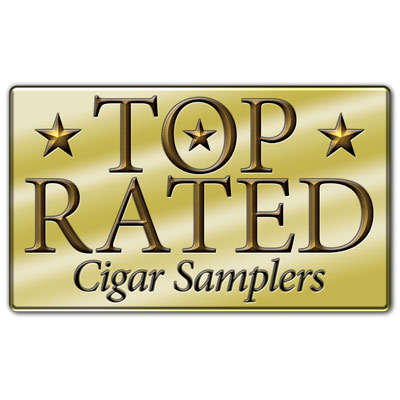 4 x 30 - Varies - Sampler of 6
Strength: Mellow
Shape: Cigarillo
Size: 4 x 30
Country: Varies
Color: Varies
Flavor: Assortment
Wrapper Origin: Varies
Wrapper Leaf: Varies
1 Moontrance Robusto
1 Tabak Especial Robusto Dulce
1 Tatiana Mocha Stobona
1 Maroma Sorrel Robusto
1 Maroma Tawny Robusto
1 Maroma Venetian Robusto
Recommended for you based on Top Rated Flavor Tin Pairing
Love this Cigar
for Tabak Especial Robusto Dulce
by Bill Panzica in IN on March 19, 2019
WOW!!
for Tabak Especial Robusto Dulce
by Miller s in Atlanta on February 09, 2019
There is no other cigar that compare. Husband and I enjoyed and ordering more. 10 ?? ?? ?? ?? ??
... read more
Tasty Number
for Tatiana Mocha Stobona
by Darryl Maxwell in NC on December 14, 2018
A second try of this stick sold me. Clipped with a guillotine cut. Construction is firm with no soft spots or peeling of the wrapper. The pre-draw was clear, easy and tasteful. The smell of cocoa is present and pleasant. The smoke was very mild and tasty throughout the entire smoke. I have to deduct a couple points due to that it burns a tad fast and a bit uneven. Nonetheless it didn t overwhelm the enjoyment of the smoke, and it didn t deter me from purchasing another 5-pack. Good smoke for the beginner.
... read more
The Maroma Sorrel Robusto Cigars.
for Maroma Sorrel Robusto
by John O Warfield in Florida on October 15, 2018
I only ordered a five pack of these, because I wasn t sure I would like them. I really don t like to criticize anything, because everyone has different tastes and preferences. This cigar is listed as having a chocolate infused flavor. I personally didn t taste or smell chocolate, or if I did it wasn t for long.I do not want to deter anyone from trying these, because you may like them. I would like to clarify that I do LOVE the Maroma Dulce and the Maroma Tawny Cigars and have since purchased several boxes and canisters of both, so I am a fan of the MAROMA brand. It s just that I think they need to tweek the flavor on both the Cafe and the Sorrel Cigars. They could be fantastic with a small flavor adjustment by the company.Happy Smoking, J.O.W.
... read more