Top Rated Jaw Breaker Pairing
6 x 60 - Varies - Sampler of 10
Strength: Full
Shape: Toro
Size: 6 x 60
Country: Honduras
Color: Varies
Flavor:
Wrapper Origin: Varies
Wrapper Leaf: Varies
5 RP Cuban Blend Sixty
5 House Of Montague Magnum
Top Rated Jaw Breaker Pairing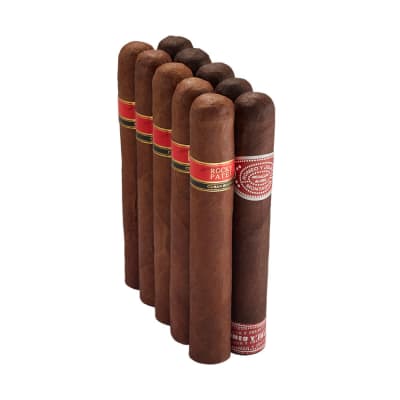 6 x 60 - Varies - Sampler of 10
Strength: Full
Shape: Toro
Size: 6 x 60
Country: Honduras
Color: Varies
Flavor:
Wrapper Origin: Varies
Wrapper Leaf: Varies
Recommended for you based on Top Rated Jaw Breaker Pairing
Worth every penny!
for
Rocky Patel Cuban Blend Sixty
by Matt in South Florida on April 12, 2012
Verified purchase
I bought a five pack of these beauties and was hooked! I love a full bodied smoke with dimension that I can put down and come back to if I choose without harsh resins to deal with. The Rocky Patel Cuban blend delivers on all fronts.Smooth draw, nice ash, and a long smoke. I smoke my cigars down to a nub most of the time and the last inch of will kick your butt! that's good thing :)
... read more
Block out an evening
for
Rocky Patel Cuban Blend Sixty
by Jackson in California on January 07, 2011
Verified purchase
First, you better plan at least 90 minutes for this baby. Mine lasted 1:45. After more than 50 brands of cigars in the past few months, I'm beginning to realize I really like a corojo wrapper. The draw was slightly loose, but not bad and certainly better than slightly tight. Terrific and interesting flavor with lots of smoke. Good burn with only minor touchups. Really like the 60 ring, but 54 is still my favorite. Great stick and a great price... good job Rocky and Famous!
... read more
Good to the last Drop!
for
Rocky Patel Cuban Blend Sixty
by Howard in Northern Virginia on June 11, 2010
Verified purchase
Start to finish, this smoke is good to the last drop! It is full of flavor yet very smooth. I like to judge my cigars by how much time I actually spend smoking them, this is one I can't put down.
... read more
Disappointed
for Rocky Patel Cuban Blend Sixty
by Jack Langham in California on December 08, 2010
I ordered the Sixties expecting the same quality I have had with previous RP cigars but after the first five minutes I began to wonder what I was smoking. At first light things went pretty well then the burn began to go uneven, then the draw became hard and inconsistent, then the fire began to die, then the wrapper began to crack and come apart. I had hoped that being in the humidor would help but the problem persists no matter what I try. Every one of these have been a disappointment so far. I am trying to get through the 20... I have not contacted Famous yet because I keep hoping some of them will straighten out, but I'm not hopeful. I suggest you try a single or a five pack before investing in a larger order. So far I cannot recommend the cigar.
... read more