Top Rated Montecristo Special
Varies - Natural - Sampler of 6
Strength: Varies
Shape: Varies
Size: Varies
Country: Varies
Color: Natural
Flavor:
Wrapper Origin: Varies
Wrapper Leaf: Varies
3 Monte By Montecristo Conde
3 Montecristo Relentless Toro
Top Rated Montecristo Special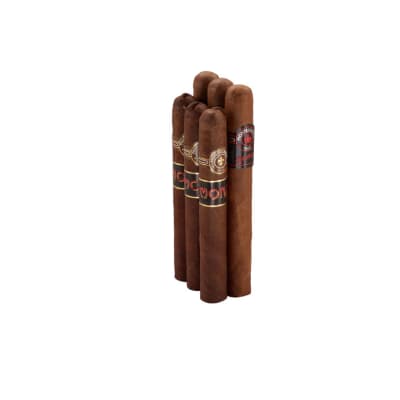 Varies - Natural - Sampler of 6
Strength: Varies
Shape: Varies
Size: Varies
Country: Varies
Color: Natural
Flavor:
Wrapper Origin: Varies
Wrapper Leaf: Varies
Recommended for you based on Top Rated Montecristo Special
Wonderful smoke!!!
for Montecristo Relentless Toro
by Rivera in Gotham on December 16, 2018
Excellent excellent stogie; a superior cigar that is flawless in construction, so it burns uber well; further, the draw is wonderful, i.e., open and effortless; Moreover, the flavors of the stogie are enjoyable creamy as it is a medium-bodied cigar meaning strength , and it has very good complexity, which many sadly misrepresent as body, which is a misnomer.
... read more
Very good smokes
for Montecristo Relentless Toro
by William M. Hill in 75860 on October 23, 2018
Live review
for Monte By Montecristo Conde
by Anderbudd in Georgetown TX on June 11, 2018
I'm enjoying one right now. First impressions are that the aroma is great, the draw is a little tight, and this cigar is very dry. It smokes a lot like a cohiba, but isn't quite as peppery. While this cigar is marketed as full flavored, I think that other reviews that identify this as a "smooth full" are more accurate. It's a pleasant smoke.Construction is beautiful. Mouthfeel is acceptable. Burn is perfect. Now at midpoint, it still draws a little tight, but my ash is perfect and the flavor is nice. It's kind of a woody, apple, caramel and coffee taste. Unique. I haven't had anything like this before. It is still quite dry.Moving into the final third of the cigar, I am impressed with how long this beauty has lasted. I guess perhaps the benefit of the tight roll is a long lasting cigar in a smaller package. There are a lot more sweet wood and vanilla notes at the end, and I am very impressed with the complexity of flavor in this stick. I like my cigars to take me on a journey of complexity of flavor, and this one has delivered. The mouthfeel and flavor of the wrapper at this point are impeccable. This climax of the story is everything I had hoped for.I will be ordering more. This is an outstanding smoke.
... read more
Excellent Cigar
for Monte By Montecristo Conde
by Anner in Columbus, OH on March 20, 2015
In the day and age of bigger and bigger ring gauges, a robusto that is a 48-ring gauge is very uncommon. This cigar stands solid to why Montecristo is such a pillar of excellence in the cigar industry. I was not impressed by the Monte 6x60 but the Conde 5.5x48 was excellent. I even walked away to check my mail and talk to the mailman, and it was still lit when I got back. A powerful testament to it s construction
... read more