Top Rated Torpedo Pairing
Varies - Natural - Sampler of 10
Strength: Varies
Shape: Varies
Size: Varies
Country: Varies
Color: Natural
Flavor:
Wrapper Origin: Nicaraguan
Wrapper Leaf: Habano
5 Padron 6000 Natural
5 Rocky Patel Nicaraguan Torpedo
Top Rated Torpedo Pairing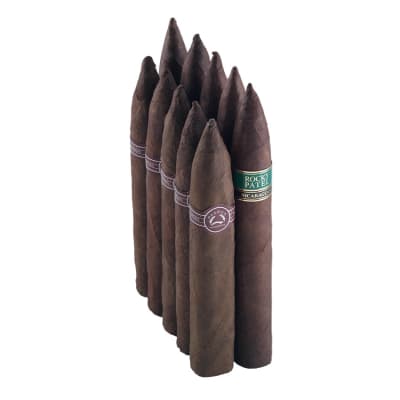 Varies - Natural - Sampler of 10
Strength: Varies
Shape: Varies
Size: Varies
Country: Varies
Color: Natural
Flavor:
Wrapper Origin: Nicaraguan
Wrapper Leaf: Habano
Recommended for you based on Top Rated Torpedo Pairing
Woah
for Padron 6000 Natural
by Pete in Michigan on August 26, 2018
I used to think that Padron s kind of all tasted the same. How foolish I was. The Padron 6000 natural is incredible. I ve smoked prob over a couple hundred different cigars in my life, and the 6000 is hands down the most chocolate tasting cigar I ve ever experienced. It s definitely a dessert cigar in my opinion, which is also earthy and sweet with a strong cocoa finish. Never once did it taste bitter, which is something I normally experience with other Padron thousand series cigars. I m definitely buying more. I was really impressed with this one fam.
... read more
A real nice medium smoke at this price point.
for Rocky Patel Nicaraguan Torpedo
by EESheehan in Fairfield, CT on February 23, 2018
Wonderful cigar
for Padron 6000 Natural
by Bill in Chicago on October 21, 2010
Great cigar, easy draw, good burn, and wonderful taste!
... read more
Padron Quality
for
Padron 6000 Natural
by Steven in West Palm Beach on December 25, 2008
Verified purchase
The Padron 6000 is excellent in both maduro and natural. There is no other brand that has such a characteristic flavor. The Padrons are simply the best cigars that I have found. From the 2000 to the 1926 Series presents some of the finest flavors, outside of Cuba, that can be found in the cigar world. The 6000 series, in my humble opinion, is the best value cigar on the market.
... read more