Top Rated Ultimate Coffee Pair
Varies - Varies - Sampler of 20
Strength: Varies
Shape: Varies
Size: Varies
Country: Varies
Color: Varies
Flavor: Coffee
Wrapper Origin: Varies
Wrapper Leaf: Varies
5 Java Robusto
5 Isla Del Sol Toro
5 Tabak Especial Robusto Negra
5 Tatiana Mocha Stobona
Top Rated Ultimate Coffee Pair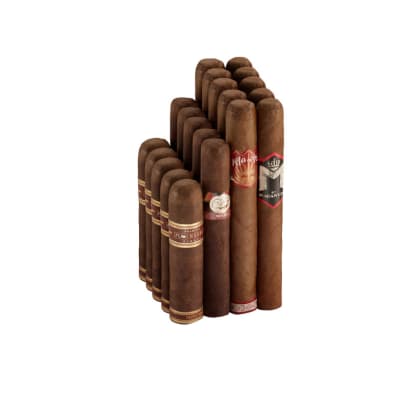 Varies - Varies - Sampler of 20
Strength: Varies
Shape: Varies
Size: Varies
Country: Varies
Color: Varies
Flavor: Coffee
Wrapper Origin: Varies
Wrapper Leaf: Varies
5 Java Robusto
5 Isla Del Sol Toro
5 Tabak Especial Robusto Negra
5 Tatiana Mocha Stobona
Recommended for you based on Top Rated Ultimate Coffee Pair
Best With Coffee Donuts
for Top Rated Ultimate Coffee Pair
by Dylan Roberts in Nazareth on August 28, 2019
Pair any one of these bad boys with your favorite coffee and a donut and then youre really living
... read more
Yummmmm
for Top Rated Ultimate Coffee Pair
by Ben in Texas on July 06, 2012
All four cigars are very tasty, but I'd have to say the Tabak is my favorite. I find it amusing that three of the four brands here are made by Drew Estate. Granted the Java was a joint venture between Rocky and Drew. Either way, very tasty sticks at an unbeatable price!
... read more
Ultimate Coffee Pair
for Top Rated Ultimate Coffee Pair
by Jeff in Minnesota on January 26, 2016
The Java and Tabak cigars in this package are excellent cigars. I currently have both in my humidor. I prefer the Tabak in the toro and the Java in the 58. The Tatiana and the Isla Del Sol are not very good. The Isla Del Sol has a sweetened tip that ruins the rest of the taste in the cigar. The Tatiana is just and awful made cigar. It is soft and comprised of small little pieces of tobacco that get all over in your mouth. I has a horrible taste. I would not waste money on this sampler but I would recommend either the Java or the Takak. They are both excellent cigars with high quality tobacco and excellent taste,burn and consistency.
... read more
Love the Colossal Coffee Collection#1
for
Top Rated Ultimate Coffee Pair
by Jeffry armstrong in Traverse City, MI on May 24, 2013
Verified purchase
I would like to know why this is not been available for a while? Simply love it...can't get enough!
... read more