Top Rated Ultimate Flavor Pair
Varies - Varies - Sampler of 20
Strength: Varies
Shape: Varies
Size: Varies
Country: Varies
Color: Varies
Flavor: Coffee
Wrapper Origin: Varies
Wrapper Leaf: Varies
5 Isla Del Sol Toro
5 Tabak Especial Robusto Negra
5 Tatiana Mocha Stobona
5 Solo Cafe Medium Roast Robusto
Top Rated Ultimate Flavor Pair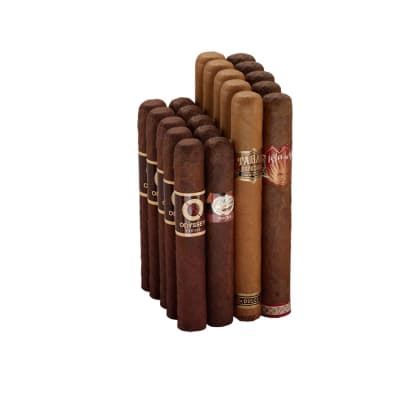 Varies - Varies - Sampler of 20
Strength: Varies
Shape: Varies
Size: Varies
Country: Varies
Color: Varies
Flavor: Coffee
Wrapper Origin: Varies
Wrapper Leaf: Varies
5 Isla Del Sol Toro
5 Tabak Especial Robusto Negra
5 Tatiana Mocha Stobona
5 Solo Cafe Medium Roast Robusto
Recommended for you based on Top Rated Ultimate Flavor Pair
GREAT SAMPLER I LOVE THE TATIANA!
for Top Rated Ultimate Flavor Pair
by KIRK in CALIFORNIA on September 10, 2019
GREAT VALUE AND A GOOD SELECTION OF MILD SMOKES ESPECIALLY IF YOU RE NEW TO INFUSED CIGARS OR NEW TO CIGARS IN GENERAL.
... read more
Great Cigars at Great Price
for Top Rated Ultimate Flavor Pair
by Mike in Boise, ID on June 20, 2017
First of all, for ~$2.50/cigar you can t beat this price. The cigars are all great, and honestly I bought this bundle for the Tabaks but I was pleasantly surprised by the Tatiana. It is a smooth smoke from beginning to end, very mild. I d never heard of the Famous Toros but those are also an enjoyable smoke. I ve yet to break into the Isla Del Sol, but so far all these have been enjoyable and at a bargain of a price.
... read more
Great Flavorful Collection
for
Top Rated Ultimate Flavor Pair
by Anonymous in on November 24, 2012
Verified purchase
A great collection of really flavorful smokes. Can't beat the price for a collection of these 4 brands. Love the Isla Del Sols, Tabak is okay, the Tatiana is a good one as is the Solo Cafe. Very happy with this collection and would buy again.
... read more
Would not reorder
for Top Rated Ultimate Flavor Pair
by Fritz Wildebush in 1047 10TH Ave W. Washburn Wi on July 27, 2018
Didn't like the flavors. When I ordered them, it was my error thinking that flavor referred to strength of smoke
... read more