Toscanello Cioccolato 10/5
3 x 38 - Maduro - Upright of 50
Strength: Mellow
Shape: Half Cheroot
Size: 3 x 38
Country: Italy
Color: Maduro
Flavor: Chocolate
Wrapper Origin: Italian
Wrapper Leaf: Kentucky
Toscanello Cioccolato (5)
3 x 38 - Maduro - Pack of 5
Strength: Mellow
Shape: Half Cheroot
Size: 3 x 38
Country: Italy
Color: Maduro
Flavor: Chocolate
Wrapper Origin: Italian
Wrapper Leaf: Kentucky
Toscanello Cioccolato 10/5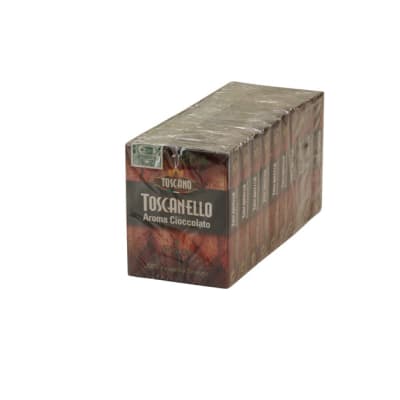 3 x 38 - Maduro - Upright of 50
Strength: Mellow
Shape: Half Cheroot
Size: 3 x 38
Country: Italy
Color: Maduro
Flavor: Chocolate
Wrapper Origin: Italian
Wrapper Leaf: Kentucky
Recommended for you based on Toscanello Cioccolato 10/5
Very nice!!
for Toscanello Cioccolato 10/5
by Kevin in Florida on August 23, 2018
Very mellow - not sweet - full bodied - hint of fire cure - with a whisper of caco - on the draw - love the dry cure cheroot "old world" firm mouth feel! When you can't puff it's a great chew'er! The smell of them in the box is sooo inviting!
... read more