Toscanello Caffe 10/5 Pk
3 x 38 - Maduro - Upright of 50
Strength: Mellow
Shape: Cheroot
Size: 3 x 38
Country: Italy
Color: Maduro
Flavor: Coffee
Wrapper Origin: Italian
Wrapper Leaf: Kentucky
Toscanello Caffe (5)
3 x 38 - Maduro - Pack of 5
Strength: Mellow
Shape: Cheroot
Size: 3 x 38
Country: Italy
Color: Maduro
Flavor: Coffee
Wrapper Origin: Italian
Wrapper Leaf: Kentucky
Toscanello Caffe 10/5 Pk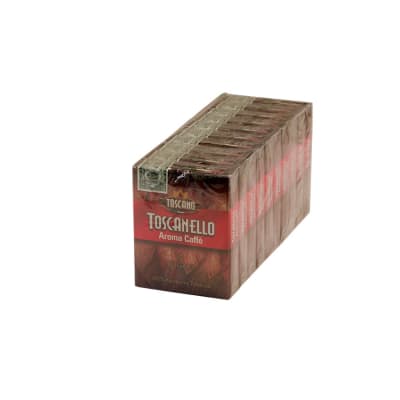 3 x 38 - Maduro - Upright of 50
Strength: Mellow
Shape: Cheroot
Size: 3 x 38
Country: Italy
Color: Maduro
Flavor: Coffee
Wrapper Origin: Italian
Wrapper Leaf: Kentucky
Recommended for you based on Toscanello Caffe 10/5 Pk
Amazed to find these are machine rolled
for Toscanello Caffe 10/5 Pk
by Gary Lazoff in 90019 on March 29, 2019
These are fantastic little smokes. What a unique flavor and aroma! Good solid construction, even burn with an easy draw. So much more than coffee going on here. Best to let them breath a bit before lighting but are still great right out of the box. Good to the nub!
... read more
Amazing
for Toscanello Caffe 10/5 Pk
by Nathan in California on August 27, 2018
Great aromaThey last quite a long time. I can get 30 to 45 min out of one.
... read more
Umm ya
for Toscanello Caffe 10/5 Pk
by Greg Mitchell in ON on August 22, 2018