Toscanello Caffe 10/5
3 x 38 - Maduro - Upright of 50
Strength: Mellow
Shape: Cheroot
Size: 3 x 38
Country: Italy
Color: Maduro
Flavor: Coffee
Wrapper Origin: Italian
Wrapper Leaf: Kentucky
Toscanello Caffe 10/5
3 x 38 - Maduro - Pack of 5
Strength: Mellow
Shape: Cheroot
Size: 3 x 38
Country: Italy
Color: Maduro
Flavor: Coffee
Wrapper Origin: Italian
Wrapper Leaf: Kentucky
Toscanello Caffe 10/5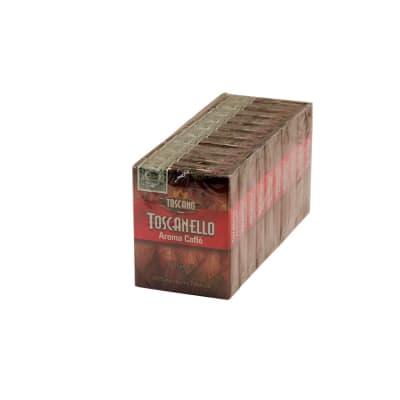 3 x 38 - Maduro - Upright of 50
Strength: Mellow
Shape: Cheroot
Size: 3 x 38
Country: Italy
Color: Maduro
Flavor: Coffee
Wrapper Origin: Italian
Wrapper Leaf: Kentucky
Recommended for you based on Toscanello Caffe 10/5
100% of reviewers recommend this product
Wonderful smokes!
for Toscanello Caffe 10/5
by Clint J in Tyler, TX on March 07, 2020
I didn t expect much from these little cigars, as I m normally an Arturo Fuente buyer. Was I ever surprised! I didn t want to put it down and seriously contemplated using a pair of tweezers to smoke more of it but it was burning my lips, so I dropped it into the ashtray. The coffee flavor is wonderful and subtle but definitely there, both on the lips and on the tongue with every draw. The burn was flawlessly even and the ash held tight, until I was ready to knock it off each time, at a little under an inch. Figuring the cost of each cigar at $2.50, at first I thought it to be more money than I wanted to spend for a 3 cigar. But after realizing it s half the price of an AF 858, which is a 6 cigar, and taking into consideration the fact that I enjoyed it so more than an 858, I ll be ordering an upright of 50 of these little gems. An added bonus is the fact that being dry cured, these won t take up any room in my humidor. Highly recommended! As an afterthought, I d like to once again sing the praises of Famous Smoke Shop! I order during the night and every order I place is shipped the next day. When I receive the cigars they are packed perfectly and arrive fresh and ready to smoke. Kudos to the order and shipping departments! - CJ
... read more
Amazed to find these are machine rolled
for Toscanello Caffe 10/5
by Gary Lazoff in 90019 on March 29, 2019
These are fantastic little smokes. What a unique flavor and aroma! Good solid construction, even burn with an easy draw. So much more than coffee going on here. Best to let them breath a bit before lighting but are still great right out of the box. Good to the nub!
... read more
Amazing
for Toscanello Caffe 10/5
by Nathan in California on August 27, 2018
Great aromaThey last quite a long time. I can get 30 to 45 min out of one.
... read more
Umm ya
for Toscanello Caffe 10/5
by Greg Mitchell in ON on August 22, 2018
Bought 5 packs
for Toscanello Caffe 10/5
by Barry Thibodeau in London On. on December 08, 2021
Alright. Won t buy again but doesn t mean they didn t satisfy. Just that ugly coyote more preferable to me. I knew going in that these were small but was surprised they were _that_ small. Like I said ugly coyote or even Bandidos a better choice for me .
... read more