Toscanello Vaniglia 10/5 Pk
3 x 38 - Maduro - Upright of 50
Strength: Mellow
Shape: Cheroot
Size: 3 x 38
Country: Italy
Color: Maduro
Flavor: Vanilla
Wrapper Origin: Italian
Wrapper Leaf: Kentucky
Toscanello Vaniglia (5)
3 x 38 - Maduro - Pack of 5
Strength: Mellow
Shape: Cheroot
Size: 3 x 38
Country: Italy
Color: Maduro
Flavor: Vanilla
Wrapper Origin: Italian
Wrapper Leaf: Kentucky
Toscanello Vaniglia 10/5 Pk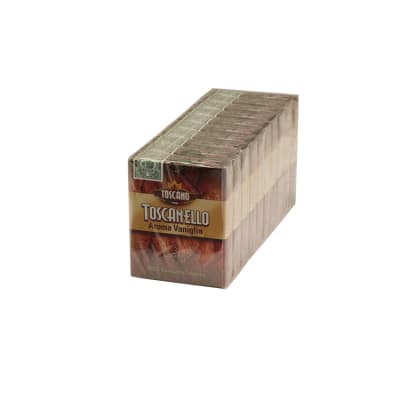 3 x 38 - Maduro - Upright of 50
Strength: Mellow
Shape: Cheroot
Size: 3 x 38
Country: Italy
Color: Maduro
Flavor: Vanilla
Wrapper Origin: Italian
Wrapper Leaf: Kentucky
Recommended for you based on Toscanello Vaniglia 10/5 Pk
The cigar wasn t really all that great.
for Toscanello Vaniglia 10/5 Pk
by Georgeanna Anderson in TN on August 01, 2018
You could smell the vanilla but I also wanted to be able to taste it as well. Only smelled it on exhale. It is a beautiful looking cigar but it is quite harsh and bitter. If the vanilla has been infused into it then it would have been amazing.
... read more