Ultimate Dominican Sampler
Varies - Natural - Sampler of 20
Strength: Varies
Shape: Varies
Size: Varies
Country: Dominican Republic
Color: Natural
Flavor:
Wrapper Origin: Varies
Wrapper Leaf: Varies
5 Partagas Robusto
5 RyJ 1875 Bully
5 Cohiba Robusto
5 Montecristo Platinum Toro
Ultimate Dominican Sampler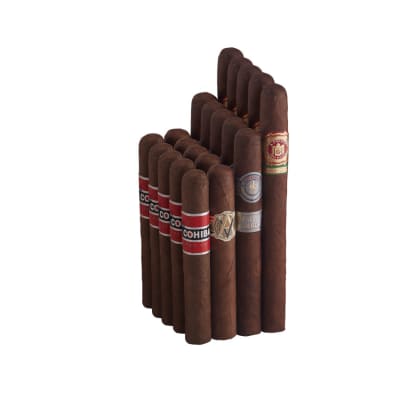 Varies - Natural - Sampler of 20
Strength: Varies
Shape: Varies
Size: Varies
Country: Dominican Republic
Color: Natural
Flavor:
Wrapper Origin: Varies
Wrapper Leaf: Varies
Recommended for you based on Ultimate Dominican Sampler
Great
for Cohiba Robusto
by Arthur Jackson in 30656 on February 07, 2019
Love the cigars..I ordered from Famous smoke and it was of my best decision...my cigars came in 3 days price was great...now its time to order some samples.
... read more
Excellent cigar
for Romeo y Julieta 1875 Bully
by Craig in San Francisco Bay Area on December 17, 2018
Excellent taste, excellent and consistent burn and draw; a great smoke for the money!
... read more
Very Good
for Partagas Robusto
by Robert J. Di Paolo in El Dorado Hills, Ca on September 17, 2018
Expected more flavor based on the magazine review. Otherwise a very good smoke.
... read more
Won?t let you down.
for Cohiba Robusto
by Anderbudd in Georgetown TX on May 14, 2018
This is my second review of a cohiba in the last 18 hours. This morning a reviewed a toro tubo. Tonight I am enjoying this one. Draw, flavor, burn is absolutely perfect.Granted, Cohibas have been one of my humidor staples for years, a cigar I always enjoy. They are pricey, but I have yet to have a bad experience.I prefer the robusto over the toro simply because of draw. Other review state inconsistencies in burn and draw. This has been my experience also.But no one complains about the flavor. These are so flavorful and smooth, woody and peppery. Flavorwise, it is everything I could want in a cigar. A true medium bodied cigar for the mild cigar smoker, cohibas have kept me coming back again and again for 10 years.
... read more