Vudu Cut And Light
Varies - Varies - Sampler of 10
Strength: Varies
Shape: Assorted
Size: Varies
Country: Varies
Color: Varies
Flavor:
Wrapper Origin: Varies
Wrapper Leaf: Varies
1 Xikar Xi1 Cutter Vudu
1 Best Of Vudu
Vudu Cut And Light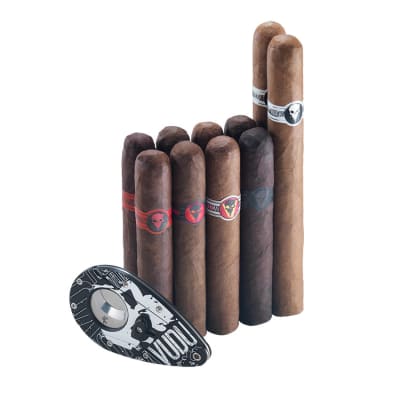 Varies - Varies - Sampler of 10
Strength: Varies
Shape: Assorted
Size: Varies
Country: Varies
Color: Varies
Flavor:
Wrapper Origin: Varies
Wrapper Leaf: Varies
Recommended for you based on Vudu Cut And Light
House blends with a decent cutter.
for Vudu Cut And Light
by Steve in Indiana on June 29, 2018
Vudu are branded mild house blend cigars made by a well known cigar firm. The cigars in this sampler are excellent budget cigars that wont overpower someone just looking to relax. They are made by an established firm and are simply branded under Famous Vudu line. That doesnt mean they are terrible, but they arent going to knock anyones socks off in terms of flavor profile. They are subtle smokes for sure. Unseasoned or newcomers to cigars will only notice slight differences in flavor between all these. Youll get a lot of normal tobacco and some light secondary flavors throughout the different bands and they dont have complex profiles that change as they burn. They have maybe one or two dominant flavors and dont change a lot as you smoke them. They all have a slight burst of pepper as you start then calm into a single flavor. Seasoned smokers and folks with developed paletes should be able to notice the secondary flavors a bit better. These are good mild everyday smokes if you re not looking to spend a lot of money on something with bigger more complex flavor profiles. The included cutter is well made and a decent upgrade from a basic twelve dollar plastic cutter from a smoke shop. Its sharp, cuts clean, and all metal.
... read more