La Gloria Cubana (DR) Double Corona

7 3/4 x 49 - Maduro - Single
specifications
- View Description
Strength:Medium
Shape:Churchill
Country:Dominican Republic
recommended for you based on La Gloria Cubana (DR) Double Corona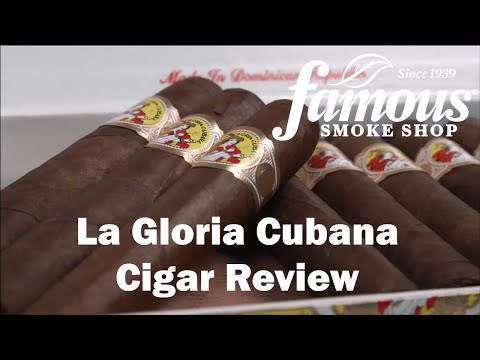 La Gloria Cubana (DR) Double Corona
If you weren't smoking a La Gloria Cubana cigars during the 90's cigar boom, you might as well have been smoking ham. Originally blended by Ernesto Perez Carrillo in his father's Cuban tradition, today they're among the world's leading premium handmade cigars. Each cigar is blended with rich Dominican & Nicaraguan tobaccos in your choice of lush Ecuadorian Sumatra or Broadleaf Maduro wrappers, for a smoke that's both rich in heritage and flavor. Order a box or a money-saving 5-Pack now.
full specifications
Strength:Medium
Shape:Churchill
Size:7 3/4 x 49
Country:Dominican Republic
Wrapper Color:Maduro
Wrapper Origin:Connecticut
Wrapper Leaf:Broadleaf
2 reviews
100% of reviewers recommend this product
OH YEA ! old school dominican cigar here
for La Gloria Cubana (DR) Double Corona
by russell in brigantine,nj on June 23, 2012
bought this air tight, always fresh 5 pack from famous, the aroma when i opened the pack had fresh all over it, lit one up right a way,great cigar these things are a 92-94 easy. burn,draw,aroma all great, earthy taste, and construction all there, these are a great buy at $22 for 5. I went with the smaller ring churchill for a change but this, almost 8 inch long cigar made it well worth it......buy em
The Dbl Corona Maduro (Florida) is INCREDIBLE ! !
for La Gloria Cubana (DR) Double Corona
by David Cade in Detroit, Michigan on June 25, 1999
Words cannot describe the rich flavors. The only downside is these may need some aging (6 months or more) because the ones purchased in Fla. were a little green