Alloy Metal Large Ashtray
Holds 4 Cigars
Description
Every cigar smoker needs a good cigar ashtray and this affordable, alloy metal ashtray is just what the doctor ordered. It's got good looks, functionality, cleans easily, and holds up to four full-size cigars. Ideal for either home or the office.
Dimensions: 6 x 6 x 1-1/2
Alloy Metal Large Ashtray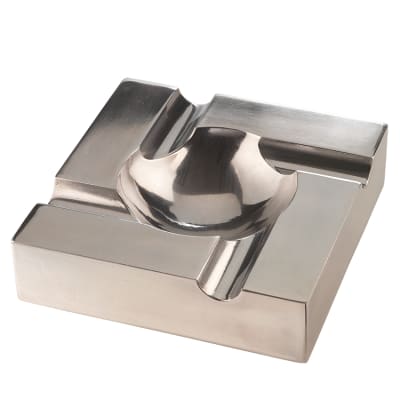 Description
Every cigar smoker needs a good cigar ashtray and this affordable, alloy metal ashtray is just what the doctor ordered. It's got good looks, functionality, cleans easily, and holds up to four full-size cigars. Ideal for either home or the office.
Dimensions: 6 x 6 x 1-1/2
Recommended for you based on Alloy Metal Large Ashtray
Nice ashtray
for Alloy Metal Large Ashtray
by Jordan Young in St.louis on March 07, 2019
I love the look but since it is off center of the ashtray bowl the cigar condesates against the side but other than that it's a great ashtray !
... read more
What I thought it would be
for Alloy Metal Large Ashtray
by Joe Rotter in Pleasanton,Ca on October 17, 2018
Nice ashtray for the Money. I did not think for a minute it would be solid.
... read more
Holds4 but the ash of 2
for Alloy Metal Large Ashtray
by Ken in Tucson az. on August 02, 2013
As I said holds 4 cigars but the ash of 2 other than that picture is spot on 6/6 squared stamps polished under side is plain metal looking and at the corners underneath is 4 1/8" felt pads so not to scratch your table . Good for two people smoking not four 4 would rate the price as 9 dollars but no more than 10 . Happy smoking
... read more
Nice Price - But Not Enough INFO
for
Alloy Metal Large Ashtray
by Mike in Kansas City on May 24, 2010
Verified purchase
I purchased one of these with my last box of cigars...I was surprised at how light weight the ash tray is as its stamped out and hollow on the underneath side. I decided to keep it anyway.
... read more