Bigfoot Sweet Aromatic 8/5
4 1/2 x 27 - Maduro - Upright of 40
Strength: Mellow
Shape: Small Cigar
Size: 4 1/2 x 27
Country: Dominican Republic
Color: Maduro
Flavor: Sweet
Wrapper Origin: Connecticut
Wrapper Leaf: Broadleaf
Bigfoot Sweet Aromatic 8/5
4 1/2 x 27 - Maduro - Pack of 5
Strength: Mellow
Shape: Small Cigar
Size: 4 1/2 x 27
Country: Dominican Republic
Color: Maduro
Flavor: Sweet
Wrapper Origin: Connecticut
Wrapper Leaf: Broadleaf
Bigfoot Sweet Aromatic 8/5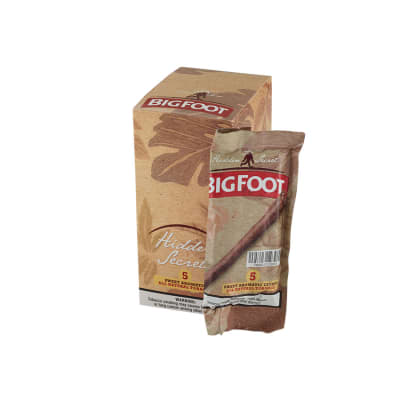 4 1/2 x 27 - Maduro - Upright of 40
Strength: Mellow
Shape: Small Cigar
Size: 4 1/2 x 27
Country: Dominican Republic
Color: Maduro
Flavor: Sweet
Wrapper Origin: Connecticut
Wrapper Leaf: Broadleaf
Recommended for you based on Bigfoot Sweet Aromatic 8/5
25% of reviewers recommend this product
Review of Bigfoot cigars
for Bigfoot Sweet Aromatic 8/5
by dennis Frierson in sacramento,ca on August 21, 2018
/In a search to replace Backwood cigars, which are unavailable, I came across Bigfoot cigars. There are in my opinion as good as Backwood, except for their draw, they are machine made, but that is easily fixable.
... read more
Bleh
for Bigfoot Sweet Aromatic 8/5
by Asa rodgers in San Angelo, TX on July 17, 2021
I wanted something to tide me over until I could get my Bandidos again….these are not it. They are slightly aromatic but not sweet at all. The taste is mild, so they have that going for them, but the draw is so incredibly tight you can't enjoy it at all. Man, I wanted something with the Big Guys name on it to be good; unfortunately, these are not.
... read more
won t buy again
for Bigfoot Sweet Aromatic 8/5
by mark reginatto in redding, ca. on April 18, 2018
i was very unhappy with these cigars. normally order backwoods or 1882 s. saw these in an add on the site and ordered a 40 pack. every one of them was rolled so tight i got a headache sucking on them trying to get them to draw. would not recommend them or order them again.
... read more
Not a very good quality
for Bigfoot Sweet Aromatic 8/5
by Craig in Henderson NV. on January 05, 2021
I would not purchase these again !Unable to draw smoke through these cigs, they are rolled very tight! they are so dry ! No I wouldn't buy these , no quality control for sure !!
... read more